More Fall collections are coming in, and this is one that I have been waiting to post since I received over a week ago!
Anise has released their Fall 2013 Collection aptly named Enchanting!  This 10 piece collection has stunning Fall cremes, shimmers and a scattered holo.
Royalty Treatment
Royalty Treatment is a deep violet cream.  I used 2 coats for this photo.
Sea Gypsy
Sea Gypsy is a deep navy creme and one of my favorites from the collection!  I love these deeper colors in the cooler seasons.  I used 2 coats for this photo.  I wore this one for a full day and I had forgotten to wear base coat with it.  I was expecting stains on my nails after, but when I removed, there wasn't a stain in site!
Night Out
Night Out is another beautiful blue.  It has a touch of brightness to it while still being a good transition into the Fall shades.  I used 2 coats for this photo.
Wine Club
Wine Club is a deep wine creme.  I used 2 coats for this photo.  This is another "go to" Fall shade!
Guessing Game
Guessing Game is a great name for this one.  In different lighting it took on different tones.  This is a deep taupe shade but with hints of lavender in it as well.  I used 2 coats for this photo.
Bronze Have More Fun
Bronze Have More Fun is the only full metallic in the collection.  This is a fiery orangey bronze shade.  I used 2 coats for this photo.
Skinny Jeans
If you spot this polish when the collection releases… GET IT.  Its so much prettier than my photos could capture.  This is a vibrant purple base with intense blue shimmer throughout the polish.  An absolute MUST HAVE.  I used 2 coats for this photo.
Closeup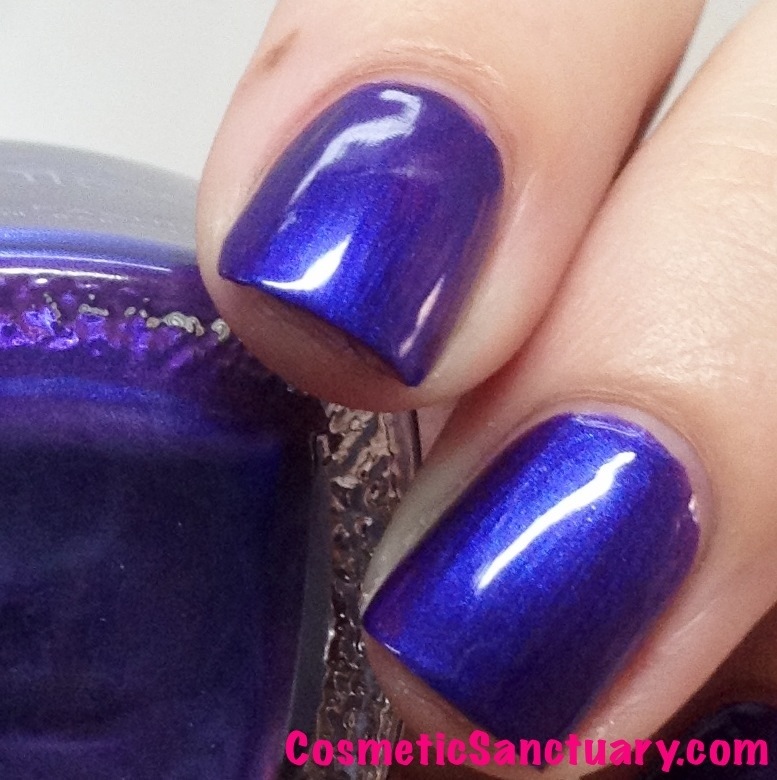 You need this.
Street Orchid
Another must have!  Street Orchid is a plum base with a vibrant greenish gold shimmer throughout.  I used 2 coats for this photo.
Closeup
You can see how intense the shimmer is and the base color on the index finger.
High Society
High Society is a shimmer deep scarlet red with shimmer.  You really can't have a Fall collection without the deep red!  I used 2 coats for this photo.
Be Worldly
Be Worldly is by FAR the star of the show for me!  Purple jelly base? Check.  Packed with holo sparkle? Check!  My 2 favorite things in one polish.  I used 3 coats for this photo.  I would have stopped with 2, but I wanted more sparkle on my tips so I added a third coat!
Under Artificial Light
Full Hand with Flash!
I can see this one going FAST!  It's so gorgeous!
Anise Fast Dry Top Coat
Anise has come out with a Fast Dry Top Coat!  I used this as my top coat for all of the photos within the post.  It dries fast (it only takes a touch longer than Seche Vite and Poshe) and it's a 3 Free Fast Dry Top Coat!
The Enchanting Collection is definitely a lovely Fall Collection.  I really love the intense shimmers and the holographic added to the collection.  Definitely a step up from previous collections.  The cremes all applied well and within 2 coats were fully opaque.
My Top Picks:  Be Worldly, Skinny Jeans, Street Orchid and Sea Gypsy
The entire Anise Nail Fashion line is free of Toulene, DBP, Formaldehyde, Formaldehyde Resin and Camphor. Not only that, they do absolutely NO animal testing!  Anise has been certified by both PETA and the Leaping Bunny Organization in recognition of their cruelty free position!  Anise Nail Fashion also has a 100% Vegetarian Ingredient Policy!
All of these colors are available at your local DSW (Designer Shoe Warehouse) for $6.00 per bottle (each bottle is .5 fl oz), and they are ALWAYS  Buy One Get One 50% off !  You could walk out with 2 gorgeous polishes for less than $10.00!  Anise doesn't generally stock warehouses with their polish because they want to guarantee freshness and quality in every bottle.   So you are getting a really good bang for your buck at $6.00 considering it is a 6 Free, cruelty free polish with top notch ingredients!
Be sure to join Anise on Facebook HERE as well as Twitter HERE.  Like 'pinning'?  Check Anise out on Pinterest as well HERE!
Make sure you stop by your local DSW to check out the Anise Enchanting Collection!