About 2 weeks ago a package was delivered to my work and it contained 17 Smashbox Be Legendary Liquid Lip products. I was incredibly excited to see these and play with them a bit. I've worn the Smashbox Be Legendary Lipsticks before and have really enjoyed them (I have about 30 I think?) so to see the Be Legendary line expanded into liquid lipsticks was really exciting.
The Smashbox Be Legendary Liquid Lip is made up of 9 metallic finish shades as well as 8 vinyl finish shades.
Most of these shades are office friendly and can be worn for both daytime and nighttime looks and I only found 2 of the shades weren't ones that I personally would wear, but are fun to play with.
Smashbox Be Legendary Liquid Lip shades are liquid lip formulas that glide on with the full coverage of a lipstick and the high shine of a gloss in a single coat.  Each shade delivers an amazing punch of color and are incredibly well pigmented.
I've seen this claim before, so I wasn't fully buying it until I tried them, and they really do offer full coverage in just 1 coat.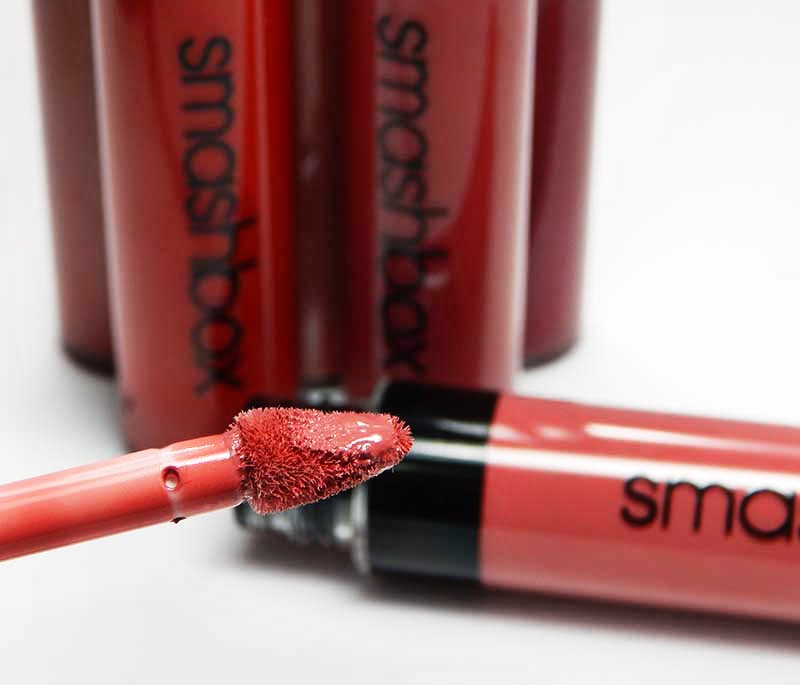 Each tube of Smashbox Be Legendary Liquid Lip comes with a doe foot applicator that curves in on one side. The curve gives the tip a more pronounced point, which also gives more precision when applying. I found the applicator to be a perfect size for my lips and I really liked this type of applicator. It was plush but firm, and the precision tip gave me better application control.
Let's take a peek at each color.
Smashbox Be Legendary Liquid Metallic Lip
Smashbox Be Legendary Liquid Metallic Lip shades were probably my favorite to wear. They offer an incredible shine and a stunning metallic formula. They don't dry down matte, so they keep a nice, rich, moisturized look on the lips.
Most metallic liquid lipsticks I own do dry down to a satin or matte finish, and settle within the lines of my lips and really looks weird after an hour or so of wear. While these do stay shiny, I do have to reapply more than I would a matte or satin finish.
From left to right:
Crimson Chrome – Metallic True red
Moscow Muled – Metallic Copper
Iced Out – Metallic Royal Blue
Space Case – Metallic Grey
Petal Metal – Metallic Rose Gold
Brains 'N' Bronze – Metallic Bronze
Foiled Brat – Metallic Burgundy
Mauve Squad – Metallic Mauve
Haterade – Metallic Orange
Of these 9 shades, Space Case (Metallic Grey) was the only one I found to be a bit more fussy. It applied with some patchiness and I did have to go over twice for a full opaque, even application.
The other 8 shades went on in 1 easy coat and were beautiful on. I can't see myself wearing Iced Out or Space Case, but the other 7 are completely wearable daily for me.
Wear Time: 6.5 Hours before reapplying.
Smashbox Be Legendary Liquid Lip
Smashbox Be Legendary Liquid Lip have a vinyl finish. They are incredibly opaque, like the metallics and have a super glossy shine. Much like the metallics, these stay shiny and don't dry down matte or satin. The formulas offer the shine of a lip gloss with the opacity of a full coverage lipstick. I can (and have) worn each of these shades to work with no issue and this is one of the first times all shades within a collection (or sub collection if we are going by metallic vs vinyl) that I could pull off each shade.
These shades are referred to by Smashbox as Liquid Pigment, and considering the pigmentation to them – I find that fairly appropriate.
From Left to Right:
Brick Trick – Deep Red/Brown 
Girl, Please – Pink Brown 
Bad Apple – Warm Red 
Bad B – Light Cool Pink
Rose B4 Bros – Cool Blue toned Pink 
Crush It – Deep Magenta 
Mauve Wife – Cool Mauve Pink 
Pink Drank – Midtoned Pink 
I had absolutely no application issues with any of these 8 vinyl finish shades. They glided on and reached full opacity in one coat.
My favorites are Rose B4 Bros, Crush It, Brick Trick and Mauve Wife. All 8 went well with my skin tone (in Smashbox foundation I wear Light Cool Beige for skin tone comparison)
Wear Time: 4 Hours before reapplying
Smashbox Be Legendary Liquid Lip Overview
I love liquid lipsticks in general and probably own more liquid lipsticks than normal lipsticks at this point. Most liquid lipsticks I own dry down matte or satin and tend to have a longer wear time than the Smashbox Be Legendary Liquid Lip shades. However, because they do not dry down to a satin or matte finish, they also easily transfer. Most mattes/satins have very little if any transfer but the glossy liquid lips do. I left a giant berry smooch print on my son when I dropped him off from school and then had to try to get it off him before rushing him to class. He's in the 5th grade, so while he still loves a kiss and hug goodbye, he doesn't want to get teased about it!
While I do own and love a lot of the Smashbox Be Legendary lipstick line, I actually prefer the Liquid Lip shades to them. The main difference at this point between the normal lipstick and liquid lip lines are that the normal lipsticks offer a much larger color selection.
I do hope Smashbox plans on expanding on their Liquid Lip line though sometime in the future. It almost feels like they picked fairly safe colors to launch the Liquid Lip shades, which makes sense to see how they do. Of course that excludes Iced Out and Space Case. I would really love to see some rich berry or purple shades added (my personal favorites) in both the metallic finish and vinyl. At this point Foiled Brat is the closest to those.
Price: $24.00 Each
Where To Buy: Sephora | Ulta | Nordstroms | Smashbox Website
I have a lot more Smashbox on the way to share with you. Now that tax season is officially over I will have more time to dive into cosmetics and hopefully share some of my own purchases with you as well!
Do any of these shades grab your attention? Have you tried the Smashbox Be Legendary Liquid Lip shades out? I'd love to hear your thoughts in the comments below!