Press Samples of Polish Pickup
June 2021 | Over The Rainbow
Disclosure: I am a paid employee for Polish Pickup. While this post is not sponsored, I do have a relationship with the hosting collaboration shop.
Affiliate Links
This whole month is pretty much a blur. Since the May shop closed on May 10th, and the June shop opens on June 4th.. there were about 2 weeks in between to complete these photos. I did go over that 2 week deadline, but I received about half of these items earlier this week. At least I know some makers felt the crunch like I did! At any rate – it's time to look at my review of some of the items I received for the Polish Pickup June 2021 Shop with the theme – Over The Rainbow!
Look at that assortment. This might be one of my favorite collages I've done.

For the Polish Pickup June 2021 shop, I have 105 items right now to share, but I think I still have 2 items on the way.

This month is Over The Rainbow! Or just Rainbows. We have a mix of inspo ranging from the more obvious Wizard of Oz reference to Pride and literal rainbows. There are a few charity polishes in here as well.

First things first – I've said this before but I'm repeating it. My nails aren't "mine" for this entire post. I had a bad break in January before starting on PPU swatching, and I broke out the Kiara Sky Gelly Tips kit in Short Coffin. I did do a full post on those, so click the wording if you want to see. So yes, my nails look different because they are for now. I also am really enjoying the tips so I don't know how long they will be on, but they are clear and don't alter anything – so … I'm enjoying it!

For the fine details – for all photos shown – I used Vapid Lacquer Commitment Issues Peel Off Base, Sweet & Sour Lacquer Gloss Sauce (except for when I used Vibrant Vinyls and Cuticula), and Sweet & Sour Lacquer Secret Matte Sauce. I purchased the Vapid Lacquer Commitment Issues and Sweet & Sour Lacquer Secret Matte Sauce, Sweet & Sour Lacquer gifted me their Gloss Sauce.

Not all polishes got the matte treatment this month. I was on a severe time crunch and the polishes that showed up later I simply didn't have time to do – or the photos didn't come out and there was little time to redo.

I do use artificial lighting for my photos. I get the most done at night, so I swatch a lot at night. My current setup uses GlamCor Pro LIghts and I use the Ultra X Model and this Daylight Company Duo Daylight Lamp (affiliate link).

This is an EXTREMELY photo heavy post. If there is something specific you are looking for – on desktop hit CTRL + F and type what you are searching for. Otherwise, enjoy the long scroll down the page, and of course the giveaway at the end.

The June shop will be open on June 4th – June 7th. Wishlisting opens tomorrow morning.

Let's do this.
1422 Designs | Roll Up For the Mystery Tour
Inspiration: Inspired by the cover of the Beatles Magical Mystery Tour album

Description: Roll Up For The Mystery Tour is a slightly mustard yellow leaning orange crelly with copper sparks, blue flecks and gold, green, orange, red shifting flakies. I used 3 thin coats and a glossy top coat for these photos.

Price: $12.50 | Cap: 100
Alchemy Lacquers | Sphere of Iridescence
Inspiration: Inspired by The iridescent surface of a soapy water bubble! 

Description: Sphere of Iridescence is a bright purple jelly base with gold to green to turquoise iridescent flakes, as well as gold to green to turquoise to blue shifting shimmer. I used 3 thin coats and a glossy top coat for these photos.

Price: $12.50 | Cap: 200
All Mixed Up Lacquers | Tickled Pink (Thermal)
Inspiration: Inspired by Tickled Pink from Rainbow Brite

Description: Tickled Pink is a fuchsia (cold) to baby pink (warm) jelly based thermal loaded with color shifting flakes and blue to purple shimmer. I used 3 thin coats and a glossy top coat for these photos.

Price: $13.00 | Cap: 200
Alter Ego Body Care Products | Brite Puppy
Inspiration: Based on the Rainbow Brite.net animate characters.

Description: Brite Puppy is a bright yellow jelly base with iridescent rainbow micro glitter. If you have a strong VNL it will show through this. The color is pigmented but it is still sheer. I used 3 thin coats and a glossy top coat for these photos.

Price: $10.00 | Cap: None
Anchor & Heart Lacquer | Hawaiian Song
Inspiration: Inspired by the book "The Good Song" written by Alexandria Giardino and inspired by the songs "Somewhere Over The Rainbow" and "What A Wonderful World", as performed by Hawaiian native, singer/songwriter and activist Israel Kaʻanoʻi Kamakawiwoʻole.

A portion of proceeds will be donated to the nonprofit ALU LIKE, Inc.


Description: Hawaiian Song is a turquoise crelly base with lime to aqua to teal iridescent flakes, orange to pink iridescent flakes and gold metallic flakes. I used 3 thin coats and a glossy top coat for these photos.

Price: $13.00 | Cap: None
Anchor & Heart Lacquer | Sea Glass Scented Matte Top Coat
Inspiration: Inspired A rainbow of tropical fruit, best enjoyed on a beach in Hawaii! 

Description: Sea Glass Scented Matte Top Coat is a chalkboard like matte top coat (super duper matte!) that applies evenly and is easy to use. This one is also scented!

Scent Description: Hawaiian Sunset is a cheerful and energizing scent featuring notes of ruby red grapefruit, zesty tangerine, orange blossom, and pineapple nectar.

I really like the scent and to my nose it's really bright and tropical. I mainly detect the grapefruit and orange citrus.

Price: $7.00 | Cap: None
Apipila | Amazing (Magnetic)
Inspiration: Inspired by the toucans that visit my garden every day.

Description: Amazing is a black jelly base loaded with red to copper to gold to green shifting magnetic pigment and matching flakes. I used 3 thin coats and a glossy top coat for these photos. I only magnetized the middle 2 nails so you can see it both ways.

Price: $13.00 | Cap: 130
Stamping Plate by Apipila | Reflection Plate
Inspiration: Inspired by the well being that my garden causes in people.

Description: Apipila brings an adorable stamping plate that is 10 x 15 cm and features flowers, butterflies, some fruits, birds, bugs and love. Also a pup and kitty! Super cute. Etching is well done and I have zero issues picking up images.

Price: $14.00 | Cap: 300
AURORA 5-Free Nail Lacquer | Mermaid With Love
Inspiration: Inspired by Mermaid stenciled wall in my daughter's room

Description: Mermaid with Love is a micro glitter flake bomb! This is a clear base loaded with geometric micro glitters and ultra chrome chameleon flakes that flash shades of aqua, turquoise, blue, violet and fuchsia. I used 3 thin coats and a glossy top coat for these photos.

Dries down with a mild texture and you might need 2 coats of top coat for a smooth finish.

Price: $12.00 | Cap: 300
Baby Girl Lacquer | The Girls Are Fighting (Over Shoes)! (Thermal)
Inspiration:

Description: The Girls Are Fighting (Over Shoes)! is a deep reddish pink (warm) to light mauve pink (warm) scattered holo that is loaded with holo micro glitters, ultrachrome micro flakes and holo shards. I used 3 thin coats and a glossy top coat for these photos.

Price: $12.50 | Cap: 100
Baroness X | Charmeuse Top Coat (Satin)
Inspiration: Charmeuse is from the French word for female charmer, is a lightweight fabric woven with a satin weave. This top coat was inspired by a photo of a beautiful rainbow charmeuse.

Description: Charmeuse Top Coat is a satin finish top coat. Satin finish is pretty much smack dab between glossy and matte. It gives the polish a smooth, softer appearance.

It takes about the same time to dry as a typical matte top coat.

Price: $8.50 | Cap: None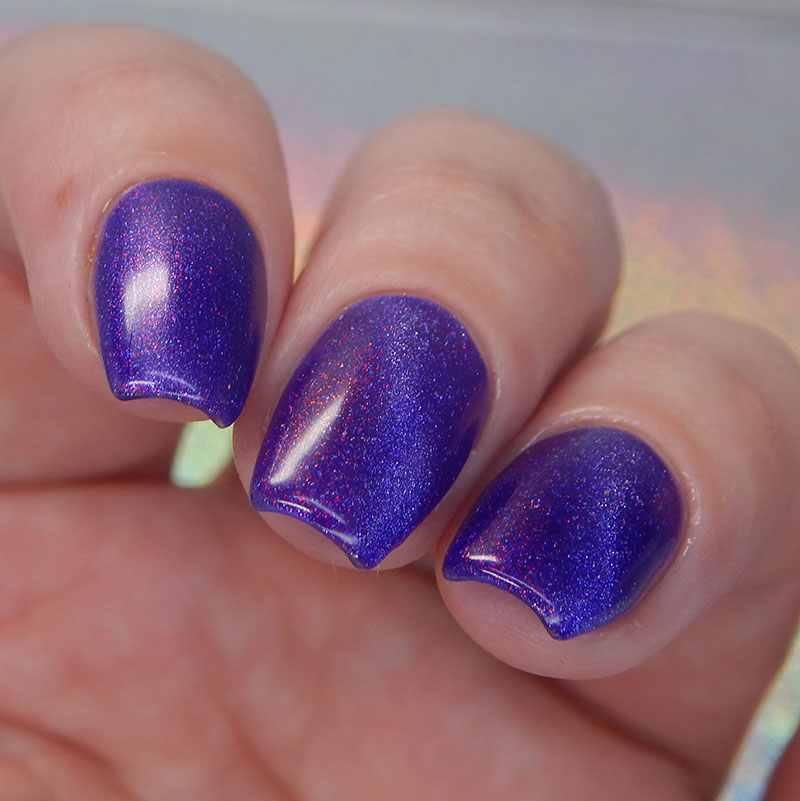 Baroness X | Ultraviolet (Mangetic)
Inspiration: Inspired by the part of the visible light color spectrum that humans cannot see, ultraviolet.

Description: Ultraviolet is a violet jelly base loaded with holo flecks, as well as pink to copper shifting shimmer and silvery magnetic pigment. I used 3 thin coats and a glossy top coat for these photos.

I only magnetized the middle 2 nails so you can see the polish both ways.

Price: $12.50 | Cap: None
BCB Lacquers | Pfeiffer Beach
Inspiration:Inspired by the colorful sand at Pheiffer Beach in Big Sur, CA.

Description: Pheiffer Beach is a deep, dusty rose jelly base with a purple to green to gold shifting shimmer and various flakes that flash a rainbow assortment of colors. I used 3 thin coats and a glossy top coat for these photos.

Price: $13.00 | Cap: 150
Whipped Sugar Scrub by BCB Lacquers | Seaside Twist
Inspiration: Inspired by sipping Pink Lemonade on the beach at Pfeiffer Beach.

Description: BCB Lacquer's Whipped Sugar Scrub is a creamy yet gritty sugar scrub with both white and brown sugar within it. It has a nice lather to it and leaves hands super soft. Throughout the scrub and sprinkled on top will be eco friendly holo microglitters, as well as little beads.

This month's scent starts with top notes of fresh lemon, sugar, juicy raspberries, and sparkling fruits. With bottom notes of juicy oranges and plum finish off this irresistible custom fragrance oil blend. 

It smells refreshing, fruity and delicious.

Price: $9.00 | Cap: 30
Bee's Knees Lacquer | Doomicorn
Inspiration: Inspired by My all time favorite costume from Doom Eternal, the Doomicorn!

Description: Doomicorn is a cool toned purple iris jelly base with green to blue shifting shimmer I used 3 thin coats and a glossy top coat for these photos.

This shade is sheer and if you have a strong VNL you may want to use either a 4th coat or a blurring base.

Price: $13.00 | Cap: None
Beyond the Nail | Rainbow Rare
Inspiration: Rainbow Rare is inspired by the rare trading cards decorated with rainbow holographic images from a certain popular trading card game/anime/video game series involving cute little animals that shout their own name.

Description: Rainbow Rare is a gold rainbow holographic microglitter bomb in a clear base. I used 3 thin coats and a glossy top coat for these photos.

Dries with a mild texture, may need 2 coats of top coat to smooth. This baby is super sparkly

Price: $11.50 | Cap: 250
Black Dahlia Lacquer | Pride
Inspiration: We were inspired by the pride flag.

Description: Pride can be a glitter topper or full coverage glitter polish and it has a clear base with rainbow matte small and micro glitters, as well as holo metallic micro glitter. I used 1 coat over a white crelly base for these photos.

Price: $12.00 | Cap: None
Bluebird Lacquer | Not All Hiros Wear Capes
Inspiration: Inspired by the place just this side of heaven called the Rainbow Bridge. In loving memory of Hiro Fluffer Nutter. He was the best of the best of all the kitties.

In honor of the special meaning behind this polish $1 for every bottle sold will be donated to Angels with Paws, the rescue that I fostered then foster failed and adopted my Hiro through.

Description: Not All Hiros Wear Capes is a fiery red holographic. I used 3 thin coats and a glossy top coat for these photos.

Price: $12.00 | Cap: None
By Dany Vianna | Magic Armoire
Inspiration: in memory of my Aunt Nady

Description: Magic Armoire is a mahogany jelly base packed full of aurora shimmer and iridescent flakes. I used 3 thin coats and a glossy top coat for these photos.

Price: $13.00 | Cap: 300
Rainbow Bag | By Dany Vianna
Inspiration: Inspired by Rainbows

Description: The Rainbow Bag is a string draw bag that shaped like a circle when open and can store polishes, makeup, or as some mentioned on FB – Dice! Loosen the strings and it opens up to reveal 8 side pockets to slip items into and a middle pouch area. When ready to go – cinch the rainbow strings and you're all set!

This is super cute and well made, and I fully expect them to sell out quick. I am hoping to see more of these in different patterns in the coming months

Price: $15.00 | Cap: 35
By Vanessa Molina | Peel Off Base Coat
Inspiration:

Description: Peel Off Base Coat is a latex based product that you apply like a typical polish or base. As it dries it goes from white to clear, then you apply polish or glitters over it. When done – peel it off.

I find it works perfect for swatching, and for me personally – it isn't for long term use. If you are really careful, you might get a day or two out of it from my experience.

Price: $10.50 | Cap: 330
Cadillacquer | Pastel Dreams
Inspiration: Inspired by pastel rainbows.

Description: Pastel Dreams is a topper that has a clear base and is loaded with red to pink to orange shimmer and a bit of holo pigment. I used 1 coat over a black creme.

Price: $13.50 | Cap: None
Cadillacquer | The Lucky One
Inspiration: Inspired by the pot of gold at the end of the rainbow.

Description: The Lucky One is a grey crelly, with matte yellow glitter in different sizes. I used 3 thin coats and a glossy top coat for these photos.

It really threw me off that this wasn't a thermal this month

Price: $13.50 | Cap: None