I did a poll on my page for which collection everyone wanted to see next, and Nicole by OPI Carrie Underwood Collection won!
This is a 14 piece collection with cremes, shimmers, glitters and slightly textured shades.  I was excited to get this collection, and although a lot of the shades aren't unique to my polish collection, I do think this collection contains shades that suit a Carrie Underwood theme.
Take a look!
Sing You Like A Bee
Sing You Like A Bee is a favorite from the collection.  This is an intense white and gold lightly textured polish.  I could not capture the beauty of this shade completely!  I used 2 coats for this photo.  The texture is incredibly light and 1 coat of top coat would smooth it out quite a bit.
Carrie'd Away
Carrie'd Away is a lightly textured gold shimmer.  This is similar to Sing You Like A Bee in feel.  I used 2 coats for this photo.
Carnival Cotton Candy
Carnival Cotton Candy is a vibrant cotton candy pink.  While I own some shades close to it, I never get tired of bright pinks!  I used 3 thin coats for this photo.  I noticed some light streaking with just 2 coats, but 3 seemed to work perfect for me.
Goodbye Shoes
Goodbye Shoes is a green tinged grey.  I am not a huge fan of this polish preference wise, but application wise – it was fabulous.  If you like this type of color, you should grab it.  I used 2 coats for this photo.
Fisher Queen
Fisher Queen is a deep purple shimmer and it's gorgeous.  I put this one back on when I was done swatching.  I used 2 coats for this photo.
Backstage Pass
Backstage Pass is the vampy shade in the collection.  This is a gorgeous chocolate brown and reddish shimmer polish.  I used 2 coats for this photo.
Love My Pups
Love My Pups is a pale pink crelly shade.  I used 3 thin coats for this photo and still saw some light streaking.
Lips Are Dripping Honey
Lips Are Dripping Honey is a light and medium gold holographic glitter topper with hex and micro glitters.  I used 1 coat over Love My Pup.  A very versatile glitter topper that would look good over a variety of polishes.
Some Hearts
Some Hearts is a gorgeous, vibrant coral creme.  Definitely another favorite!  I used 3 thin coats for this photo.
Party Bus
Party Bus is a holographic glitter top coat with square, hex and flower glitters.  While the smaller glitters distributed with no issues, I did have to fish around for the flowers to come out.  This is one coat over Some Hearts.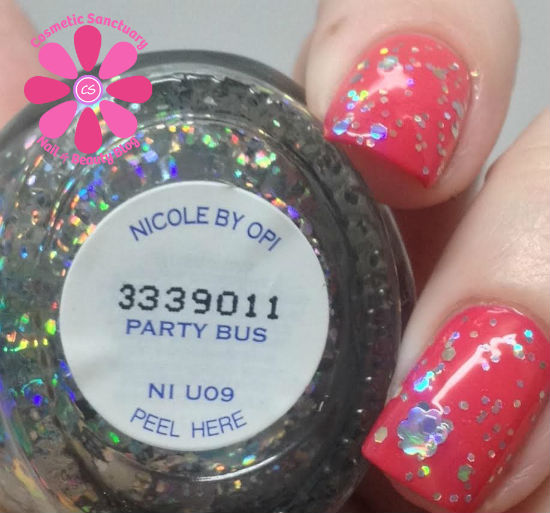 Sweet Daisy
Sweet Daisy is a slightly dusty peach creme.  I used 3 thin coats for this photo.
Southern Charm
Southern Charm was an unexpected favorite for me.  I usually cannot pull off these palette cleanser type shades, but this one worked well for me.  I used 3 thin coats for this photo.
Color Me Country
Color Me Country is a vivid pink creme.  A simply stunning shade and a favorite.  Vibrant pink shades like this work well with my skin, so I'm drawn to them easily.  I used 2 coats for this photo.
American As Apple Pie
American As Apple Pie is a classic red with a hint of shimmer within.  I actually didn't notice the shimmer in the bottle, but I saw it when I applied it.  I used 3 thin coats for this photo.
Overview
As I said earlier, most of these shades are within my collection under different brands but they are pretty classic colors that should be in most polish collections.  I didn't have any huge complaints about the formula on these shades, a couple had mild streaks but a third coat usually evened it out.
Purchasing and Availability
Nicole by OPI formulas are long-lasting, fast-drying, and salon-quality.  This limited edition collection will be in newly designed bottles featuring the NEW Nicole logo.  These shades will be available January 2014 for $7.99 each at retailers including select CVS, Duane Reade, HEB, Kroger, Kmart, Ulta, Walmart, Fred Meyer, Meijer, and Harmon locations.
In Canada, these shades will be available for $10.99 each at Shoppers Drug Mart, Target Canada, Walmart Canada, Jean Coutu, London Drug, and Loblaws.
For more information, visit nicolebyopi.com. Follow Nicole by OPI on Twitter @NicoleByOPI and become a Facebook fan!