Press Sample of the Ethereal Lacquer
Unearthly Collection
Another late night post from me. I spent most of this morning relaxing, then Jacob had another birthday party to attend. I dropped him off, then came home to kill 3 hours before heading back .. so I knocked some swatching out while I waited. What collection? The Ethereal Lacquer Unearthly Collection!
In some poses where my fingers aren't bent and "stretched" in some way, my skin looks a little shriveled. Part of that is that I'm no longer a youngster, but it's also because it's 46 degrees outside (in California, that's freezing) and my Connecticut born and raised boyfriend had the air conditioner on.

As someone who's never even owned a jacket in her life… I was freezing my tush off. He did turn it off when he saw how many layers I was putting on, but my hands were still exposed to the elements.

I know, poor me. I'll live though.

Anyways – we have the Ethereal Lacquer Unearthly Collection to check out here and this collection releases on December 6th.

Let's take a look.
Ethereal Lacquer | Earthshine
Earthshine is a teal base with teal to blue color shifting shimmer and sparsely scattered holographic pigments. I used 2 coats and a glossy topcoat for these photos.
Ethereal Lacquer | Asteroid
Asteroid is a pale beige multichrome shimmer that shifts red to copper to gold to green in a scattered holographic base. I used 2 coats and a glossy top coat for these photos.
Ethereal Lacquer | Comet
Comet is a medium indigo base with a multichrome shimmer that shifts green to aqua to blue to violet to orange, with soft scattered holographic shimmer. I used 2 coats and a glossy top coat for these photos.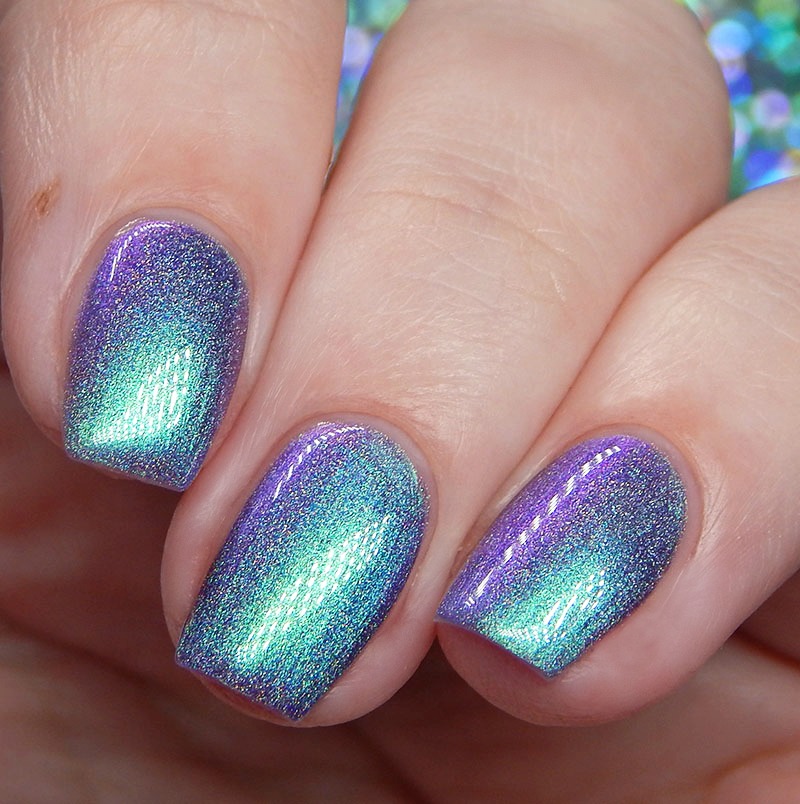 Ethereal Lacquer | Constellation
Constellation is a soft silver scattered holographic base with multichome shimmer that shifts teal to purple to gold. I used 2 coats and a glossy top coat for these photos.
Ethereal Lacquer | Aura Australis
Aura Australis is the topper in the collection. This is a clear base loaded with strong multichrome shimmer that shifts emerald green to bright blue. I used it over a pale pink crelly for the first set of photos (which I loved) and then over a royal blue creme to show the shifts a bit better. Each photo is 1 coat of Aura Australis over each color.
Ethereal Lacquer | Unearthly Collection
One thing I noticed right away with this collection was that they were all reached full opacity in 2 thin coats. I went thin expecting to need a third coat, which is typical for my swatch style – but three weren't needed. Aside from the topper – they were all 2 thin coats. Usually Ethereal's formulas are 3 coaters for me.. so that was worth noting.

Everything applied perfectly.

Price: $12.50 Each | $58.00 Full Collection

Where To Buy: Ethereal Lacquer Shop

Preorder Dates: December 6th at 9pm EST through December 13th

TAT for Preorders: 7-10 Business Days after Preorder Closes

Ethereal Lacquer Social Media: Facebook | Facebook Fan Group | Instagram

So what did you think? Will you be grabbing this collection?