Press Sample of the Polish Pickup
January 2021 | Birthstones, Gems & Minerals
Disclosure: I am a paid employee for Polish Pickup. While this post is not sponsored, I do have a financial relationship with the hosting shop.
Affiliate Links
This month was definitely a stressful one, but no one is really at fault. At the time of posting this I still have at least 20 pr packages still stuck in the USPS black hole. I tried holding this post off a bit to hopefully have some arrive and I can't hold off any longer. So when the remaining arrive, I'll be adding those in.

In the meantime.. here's a look at the Polish Pickup January 2021 Birthstones, Gems & Minerals!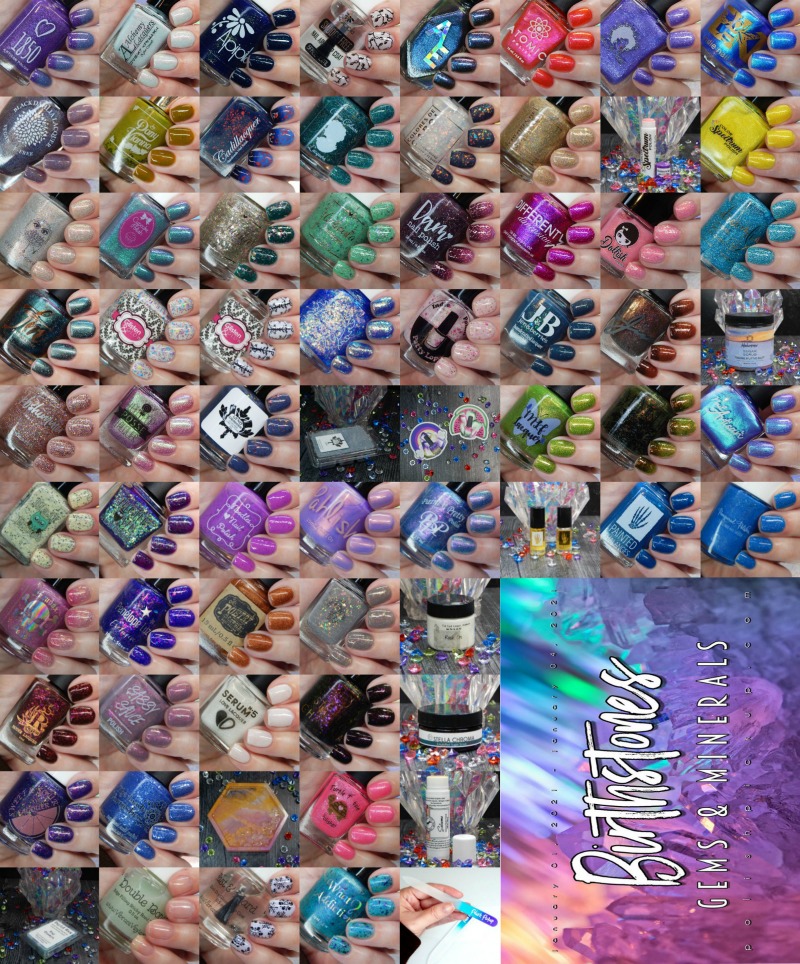 This is the second time this theme has come around. The very first time I was a Polish Pickup Blogger of the Month the theme was Crystals & Gemstones, and that was back in January of 2018 – so 3 years later we are revisiting it. The initial one I was BOTM for happened before I was a mod or anything, and that kicked off the whole "unofficial blogger of the month" and introduced me to a ton of brands I hadn't had the chance to work with yet. Since then I've pretty much done 40+ each month, more as the shop grew.

For the fine details – for all photos shown – I used Vapid Lacquer Commitment Issues Peel Off Base, Atomic Polish Quick Dry Top Coat (except for when I used Glisten & Glow Top Coat & Vibrant Vinyls), and Atomic Polish Matte Top Coat. I purchased the Vapid Lacquer Commitment Issues, but the Atomic Polish Top Coats were both gifted to me in a swatcher pack with no expectations of a review or feature.

I do use artificial lighting for my photos. I get the most done at night, so I swatch a lot at night. My current setup uses GlamCor Pro LIghts and I use the Ultra X Model and this Daylight Company Duo Daylight Lamp (affiliate link).

People ask – so here is the info… for this month's Crystal prop (it's actually a brush holder) here is the Amazon Link (affiliate link).

This is an EXTREMELY photo heavy post. If there is something specific you are looking for – on desktop hit CTRL + F and type what you are searching for. Otherwise, enjoy the long scroll down the page, and of course the giveaway at the end.

The January shop will be live from January 1st – January 4th. Wishlisting started yesterday so it's all set to browse the shop!

Lets get this show on the road. Heads up – my middle finger nail ripped a little below the nail line, and due to needing remover – a simple patch wouldn't do. I did a dip & clear gel reinforcement and I was kind of learning as I went. So some photos my nail looks… weird. That's why. The redness below the cuticle? Mix of cold weather and the buffing block rubbing the skin and irritating it.
1850 Artisan Polish | Periwinkle Sapphire (Thermal)
Inspiration:Inspired by Naturally tri-color sapphire

Description: Periwinkle Sapphire is a shimmery thermal that transitions from a warm purple (cold) to denim blue leaning periwinkle when warm. It's filled with pink to gold multichrome shimmer, fuchsia to purple microflakes, gold micro flakes and scattered holographic shimmer. I used 3 thin coats and a glossy top coat for these photos.

There is a very slight texture when it dries, but you should still only need 1 coat of top coat to smooth over.

Price: $13.00 | Cap: None
Alchemy Lacquers | Kyber Crystal
Inspiration: Inspired by SW, precious Kyber Crystal were force-attuned stones that were used by Jedi and Sith in the construction of their light sabers.

Description: Kyber Crystal is a pale baby blue crelly base with pink to orange shimmer and pink to orange shifting flakes. This is a beautiful pale shade, but when the sun hits just right – the shimmer and flakes will dazzle you. I used 3 thin coats and a glossy top coat for these photos.

Price: $11.50 | Cap: 150 US / 5 UK
All Mixed Up Lacquers | Fist Full of Stones
Inspiration: Inspired by Marvel Infinity Stones

Description: Fist Full of Stones is a black jelly base with scattered holo, rainbow of shimmer and holographic flakes in a variety of colors. I used 3 thin coats and a glossy top coat for these photos.

Price: $12.00 | Cap 120 US / 10 UK
All Mixed Up Lacquers | Infinity Fizzy Bombs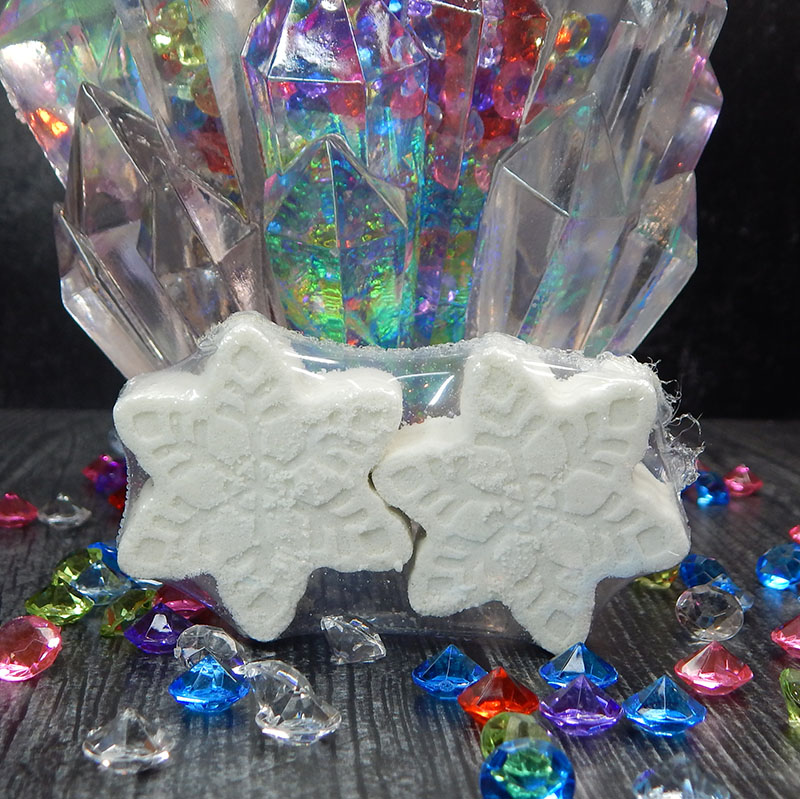 Inspiration: Inspired by Marvel Infinity Stones

Description: Set of 2 snowflake shaped fizzies with hidden colors inside. Scented in an outdoorsy peppermint and pine scent.

This is such a refreshing scent! I wasn't sure about the pine when I read it, but when it fizzed up and scented – the peppermint mixed with it is perfection.

So these are basically smaller bath bombs made for feet and/or hands. You can take a small piece or one, drop it in and let it fizz up and the oils mix in the water, then soak. I made the mistake of too much water in a bowl… and a full fizzy. Boy does that get a LOT of fizz to it. But at least it smelled amazing!

Price: $7.00 | Cap: 35 US / 5 UK
Alter Ego Body Care Products | Elbaite Tourmaline
Inspiration: Inspired by a photo of the elbaite tourmaline

Description: Elbaite Tourmaline is a dark green jelly base loaded with blue to purple to burgundy to gold shifting shimmer. The shimmer is larger particle so it's almost micro fleck like. I used 3 thin coats and a glossy top coat for these photos.

Price: $10.00 | Cap: None
Apipila | Nail Polish Blue Diamond
Inspiration:Inspired by Blue Diamond

Description: Blue Diamond is a rich, deep blue crelly base with green micro flecks and delicate gold shimmer mixed in. I used 3 thin coats and a glossy top coat for these photos.

Price: $12.00 | Cap: 300 US / 50 UK
Top Coat by Apipila | Smudge Free Top Coat for Nail Art
Inspiration:

Description: Smudge Free Top Coat is a water based top coat that can work as a barrier over stamping, burnishing powders and other nail art. I did a demo video in the Polish Pickup group to show how well it works.

This initially released in the September Polish Pickup shop and I received it for PR and I loved it so much I bought a back up bottle. It's coming out again, and I will be buying a backup again. It has yet to smear a single thing for me.

Price: $13.00 | Cap: 800 US / 100 UK
Atomic Polish | Silicate
Inspiration: Inspired by a beautiful orange/pink bicolored Tourmaline crystal. Tourmaline is the common name for the group of boron silicate minerals.

Description: Silicate is a pink jelly base with orange to pink shifting shimmer, which gives it an almost coral look in some lighting. This is a very shifty shade and some angles you see coral, some orange, some red and some a fuchsia like shade. I used 3 thin coats and a glossy top coat for these photos.

Price: $12.50 | Cap: None
Baby Girl Lacquer | Amethyst Angels (February Babies)
Inspiration: In loving memory of my late Mom and Big Sister's birthstone, the amethyst.

Description: Amethyst Angels (February Babies) is a cool purple crelly base with blue, purple and silver flecks and micro flakes. I used 3 thin coats and a glossy top coat for these photos.

Price: $10.50 | Cap: 100 US / 10 UK
Baroness X | Fire Agate
Inspiration: The inspo is Fire Agate, a variety of chalcedony. It's found only in central and northern Mexico and the southwestern United States. It is the stone of the Hero's Journey, giving us the courage to follow our spiritual path, even into the Dark places we fear, and to emerge triumphantly again into the Light.

Description: Fire Agate is a black to magenta to red to bronze multichrome with green and blue shifting iridescent micro flakes. I used 2 coats and a glossy top coat for these photos.

Price: $12.50 | Cap: 175 US / 20 UK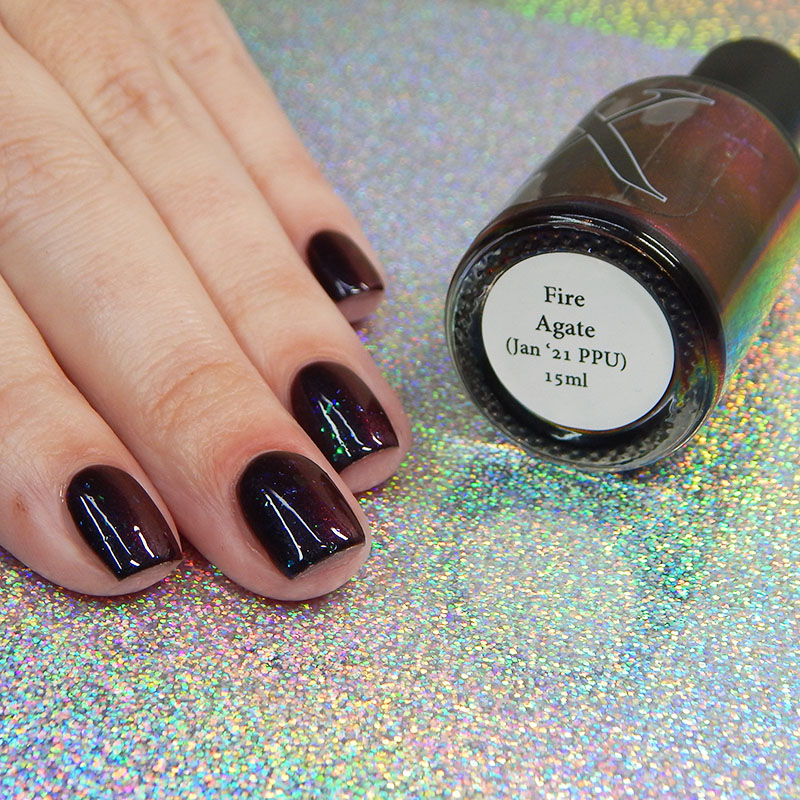 Acetone Antidote by Baroness X | Pome-garnet
Inspiration: Inspired by "…before underworld ruler Hades, parted ways with Persephone, the Greek goddess of vegetation, he gifted her a pomegranate. Hades knew that once the sweetness of the ripened seeds was experienced she would return. And she did yearly, for six months, forever. Persephone's annual return to Hades causes the winter to arrive. The pomegranate and garnet gems are associated with eternity in Greek Myths. Embellishing symbolism to garnets as a gift of love's attraction, of quick return or as a gift of estranged love. This myth creates the belief that garnet is a stone for traveling lovers and a crystal that can heal lover's broken bonds."

Description: This month's Acetone Antidote scent is Pome-garnet, it has main notes of pomegranate, red currants & clementine, with hints of cassis & bright citrus fruits. This is a custom blended, limited house scent.

To my nose – i pick up the pomegranate, but the citrus/clementine scent really jumps out. Its almost like you can smell the pulp. But there's also a floral note that leans musky a bit.

Acetone Antidote is an additive for your acetone to protect your skin from the harshness of acetone. It contains glycerin and jojoba oil to help protect and moisturize your nails, skin, and cuticles during polish removal. Plus, no more ashy, dry skin!

Price: 4.25 | Cap: None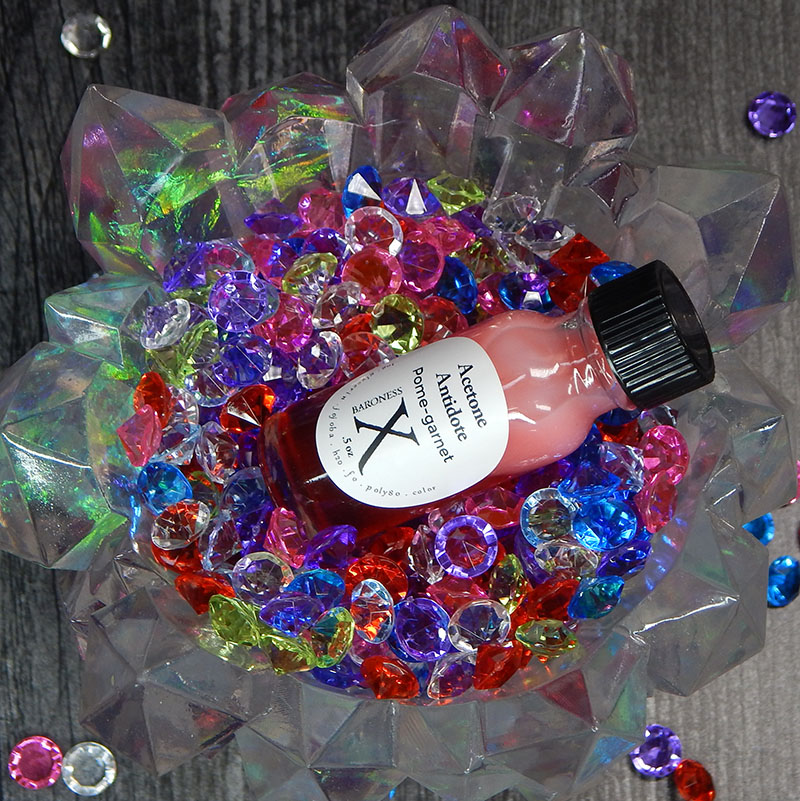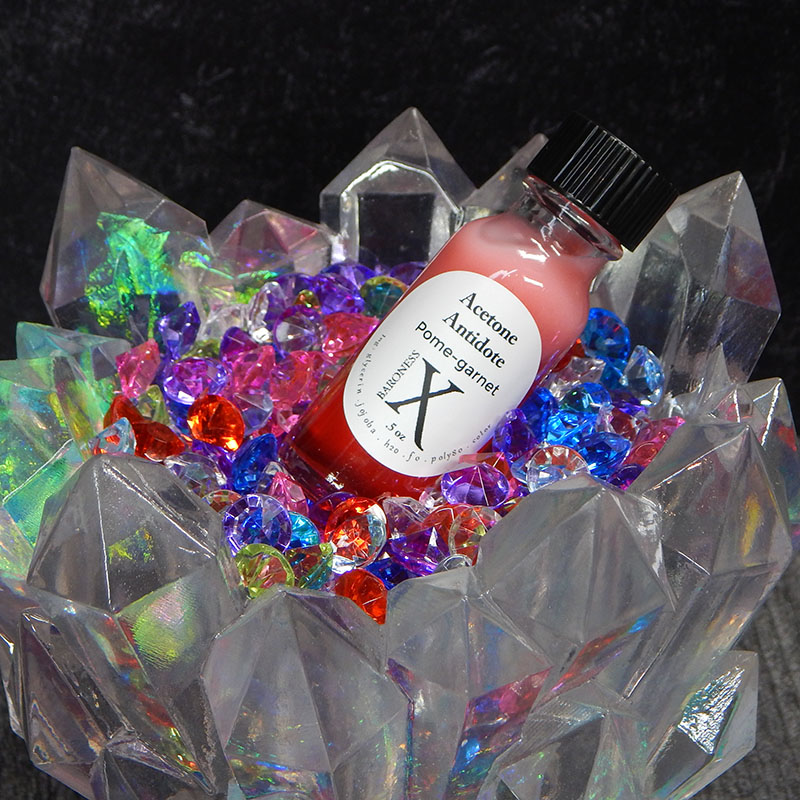 Bee's Knees Lacquer | Until It Is Done
Inspiration: Inspired by Doom Eternal Sentinel Crystal

Description: Until It Is Done is a medium blue base loaded with turquoise to blue to violet to fuchsia shifting shimmer. I used 3 thin coats and a glossy top coat for these photos.

Price: $13.00 | Cap: None
Black Dahlia Lacquer | Rainbow Baby
Inspiration: Aubrey was inspired by her rainbow baby's amethyst birth stone. He was born February 21, 2020.

Description: Rainbow Baby is a medium dusty purple jelly base with a strong linear holographic effect. I used 3 thin coats and a glossy top coat for these photos.

On the first 2 coats, it looks pretty sheer – and it builds up nicely. However, if you have a really strong VNL, you might need a base foundation for more opacity.

Also- the holo effect is super vibrant in person.

Price: $11.50 | Cap: 270 US / 10 UK
By Dany Vianna | Preserver of History
Inspiration: Inspired by Amber

Description: Preserver of History is a mustard yellow meets pea green crelly base with metallic gold flakes and brown metallic glitters. I used 3 thin coats and a glossy top coat for these photos.

Price: $12.00 | Cap: 250 US / 20 UK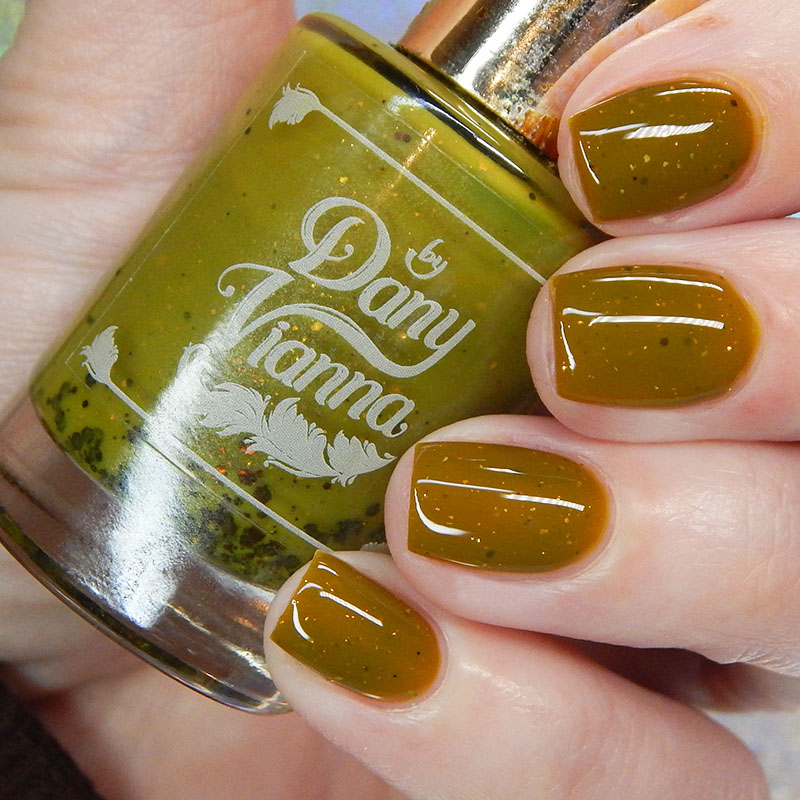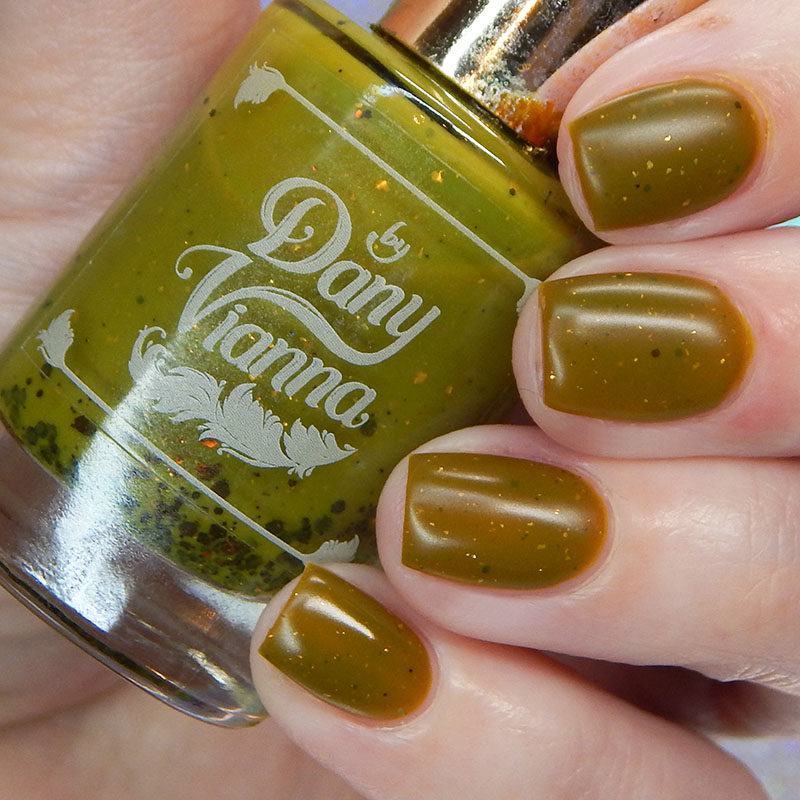 Cadillacquer | Corundum (Tri-Thermal)
Inspiration: Inspired by a fluorescent Corundum mineral. Rubies and sapphires! Both are varieties of corundum, an aluminum oxide. Rubies are an extremely fluorescent red under long wave and can be found as large masses in both fuchsite and zoisite.

Description: Corundrum is a deep navy blue (cold) to blue (warm) to light blue (hot) tri thermal crelly base with matte red glitters ranging from micro to medium sizes. I used 3 thin coats and a glossy top coat for these photos.

The glitters give this a very slight texture depending on how the glitters lay. You should still only need 1 coat of top coat to smooth though

Price: $13.50 | Cap: None
Cameo Colours Lacquers | Dia Optasia
Inspiration: Inspired by Dioptase

Description: Dia Optasia is a deep teal leaning emerald green jelly base loaded with scattered holo, gold holographic micro glitters, orange to gold crystal chameleon flakes, gold metallic micro flakes and silver holo micro flakes. I used 3 thin coats and a glossy top coat for these photos.

This is more vibrant in person and super sparkly!

Price: $11.50 | Cap: 100 US / 5 UK
Lip Balm by Color Spectrum Polish | Bedazzle Me
Inspiration: Inspired by Fashion Jewels

Description: Bedazzle Me is a sheer, slightly pink tinted lip balm scented with watermelon, mango and peach with a very subtle light purple shimmer. When I wore this, I didn't really see any tint or shimmer on the lips but I have fairly pigmented lips so it covers those at times. I still enjoy the lip balm and it smells like a summer fruit salad!

Price: $4.50 | Cap: 30 US / 5 UK
Color Spectrum Polish | S – Sulfur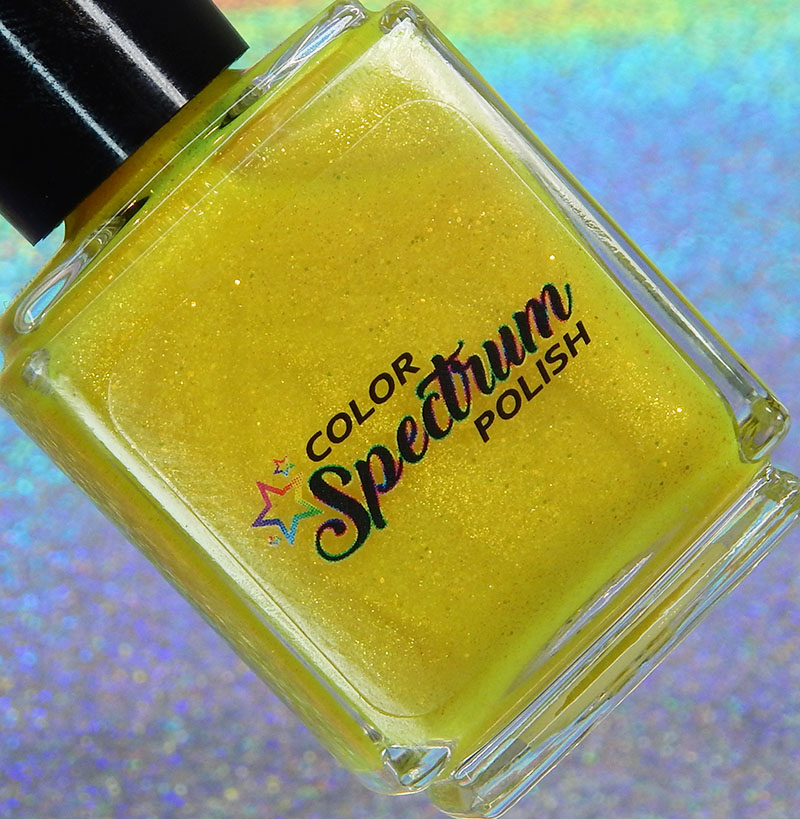 Inspiration: Inspired by the element Sulfur

Description: S-Sulfur is a bright yellow jelly base with gold to green shimmers and yellow holographic micro glitters. I used 3 thin coats and a glossy top coat for these photos.

The base is borderline neon, but the shimmer brings it out of the neon look at the end for me. I actually really enjoy it and it's a wearable yellow for my cool skin.

Price: $11.00 | Cap: 100 US / 5 UK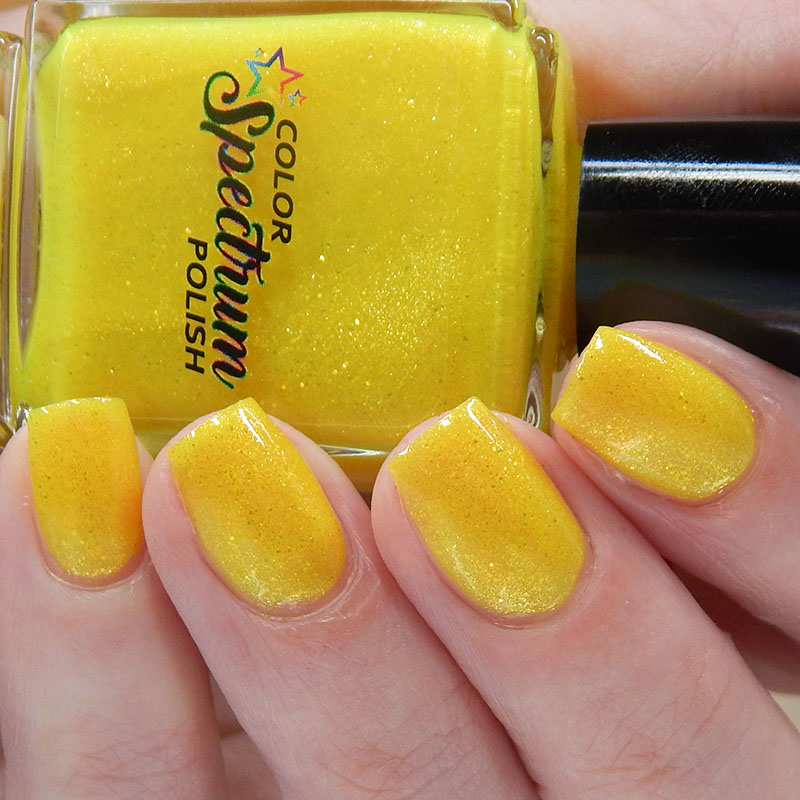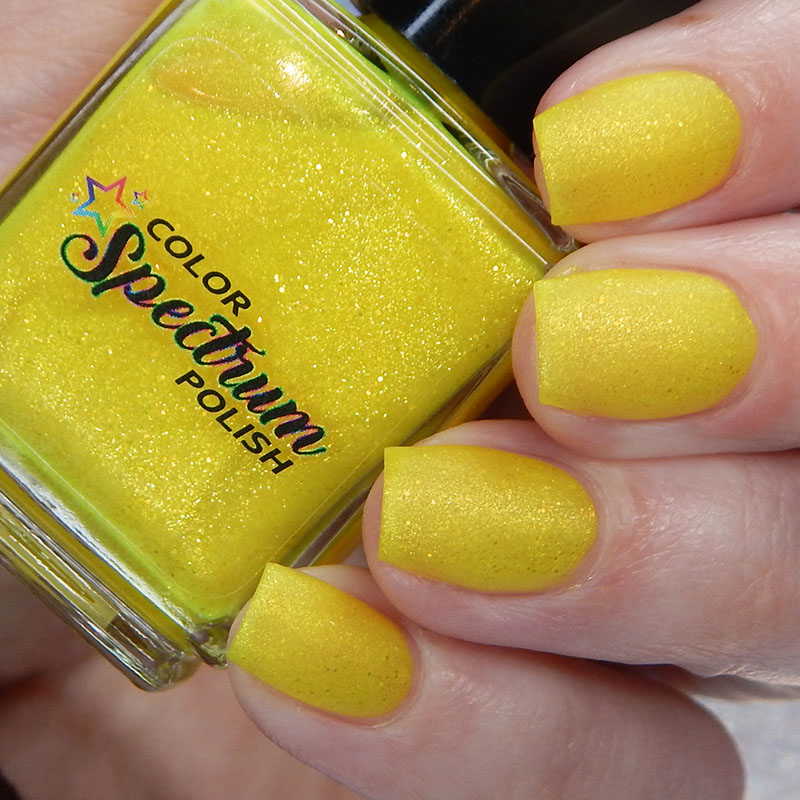 Colores de Carol | 24K
Inspiration: Inspired by a gold nugget

Description: 24K is a gold linear holographic base packed with gold holo glitter with iridescent chameleon glitters in four different sizes, holographic micro flakes and iridescent chameleon flakes. I used 3 thin coats and a glossy top coat for these photos.

This is SUPER sparkly and the holo is vibrant in this one in person.

Price: $12.50 | Cap: None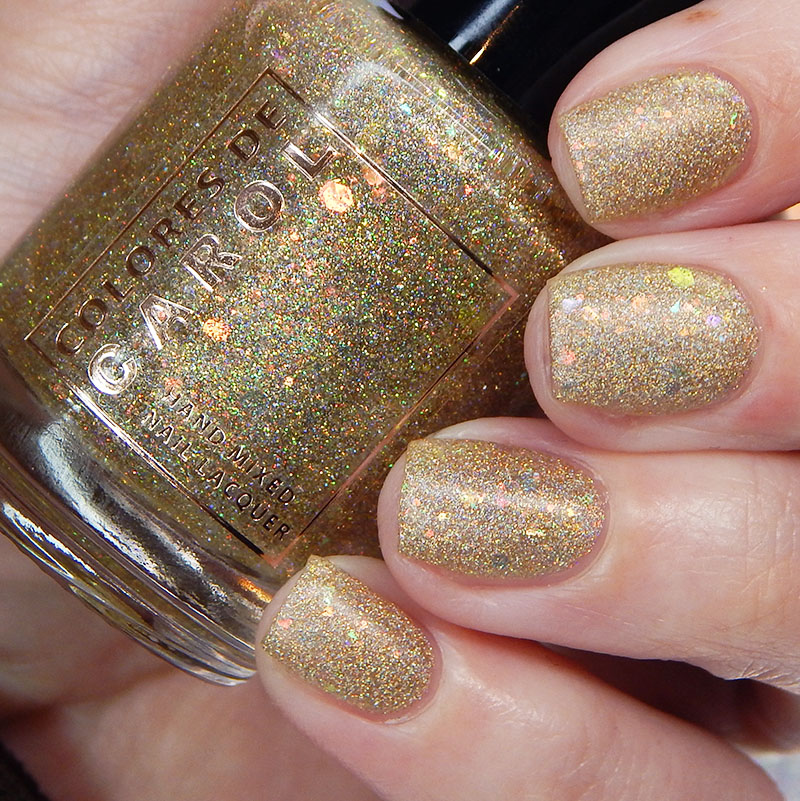 Colores de Carol | Iridescence (Matte Topper)
Inspiration: Inspired by White Fire Opal

Description: Iridescence is a clear matte base with iridescent chameleon glitter and iridescent chameleon flakes. I used 1 coat of Iridescence over Tonic Polish Sailor Undies (purchased by me with blogger discount)

Price: $12.50 | Cap 200 US / 10 UK
Crystal Knockout | Pieces of Prism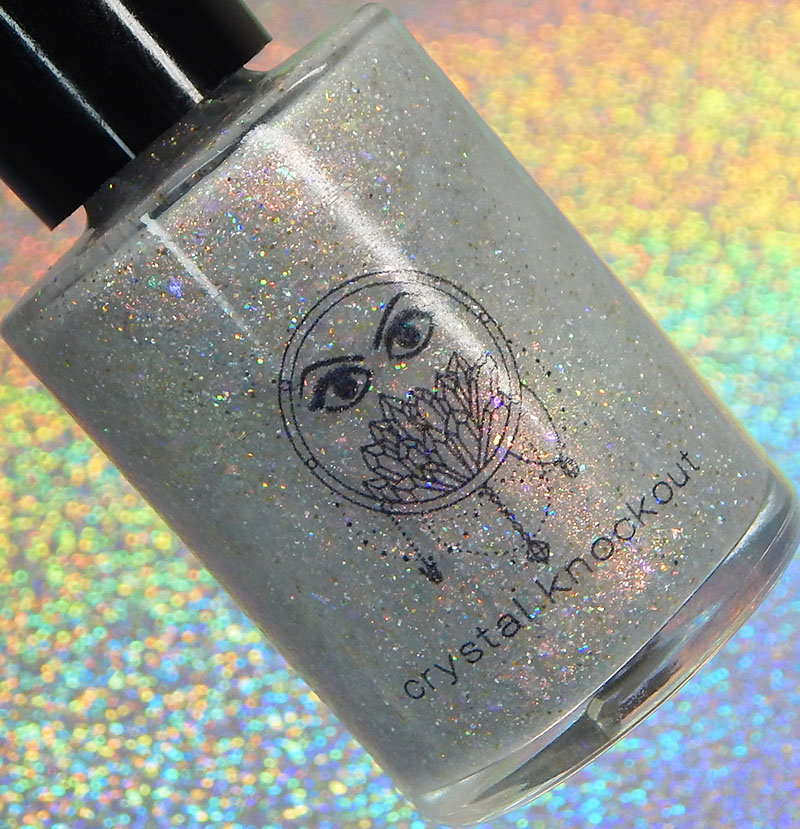 Inspiration: Inspired by Gypsum

Description: Pieces of Prism is an ivory base with orange to green iridescent shimmer, gold and silver holographic micro glitter, and color-shifting iridescent flakies in copper, orange, gold, and green. I used 3 thin coats and a glossy top coat for these photos.

I actually really love the look of this one on. It's elegant and not super flashy while still having that "Ohhhh" factor.

Price: $11.00 | Cap: None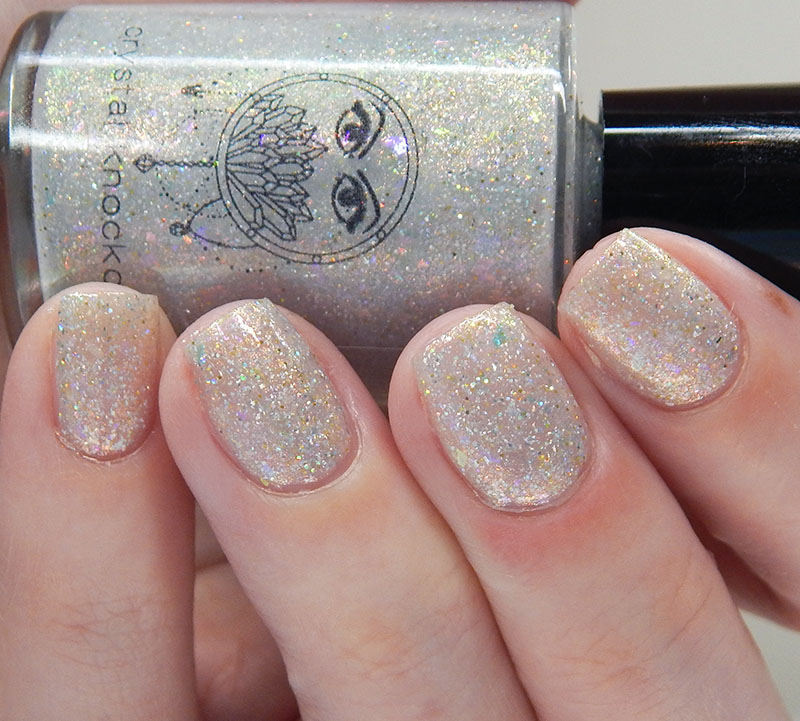 Cupcake Polish | Mystic Topaz
Inspiration: Inspired by the gorgeous lab created gemstone Mystic Topaz

Description: Mystic Topaz is a medium grey crème polish filled with purple/teal/gold multichrome and iridescent shimmers. I used 3 thin coats and a glossy top coat for these photos.

This is so shifty and beautifully done. I love the grey base and the shimmer just pops against it.

Price: $13.00 | Cap: None
Cuticula | Crystallize
Inspiration: Inspired by rainbow titanium quartz crystal.  

Description: Crystallize is a clear based topper with 10 different iridescent shifting flake types, as well as medium and large silver platinum flakes mixed in. I used 1 coat over Fancy Gloss Forest (purchased by me)

Price: $12.50 | Cap: None