Press Sample of July 2019
Polish Pickup | After Party
We are back for part 2 of the July 2019 Polish Pickup – this time it's the After Party!
Last week we looked at the Flashback/Throwback – which allowed makers to bring back a previous shade in the Polish Pickup shop. The After Party allows each maker to bring yet another polish/product back and host it within their own stores.
Most of these polishes have already been on my blog, so this is less of a review and more of a "let's see what else is coming back!" post. I will be copy/pasting a lot of the info rather than trying to reaching into the depths of my mommy brain and trying to remember everything.
The majority of these are 3 thin coats in application. It's been a long time for some – but I generally do 3 coats. I never do 4 coats for Polish Pickup – so expect each polish to be 2-3 coats max.
Ready? Let's do it.
77 Nail Lacquer | Cherry On Top
Cherry On Top 2.0 is a bright red-orange with gold shimmer.
Price: $12.50 | Click Here To Buy
1850 Artisan Polish | The Final Problem
The Final Problem is inspired by Sherlock's nemesis, the evil mastermind Professor Moriarty. This dark and moody deep blue multichrome shifts to purple and gold and is accented with gold microflakes.
Price: $12.00 | Click Here To Buy
Alter Ego Nail Enamel | Altarf AKA Beat Cancri 
 A golden yellow base with metallic red-orange flakies and copper shimmer, it is out of this world!
Price: $8.00 | Click Here To Buy | Special: Free Shipping on orders over $25.00 (no code needed)
Alter Ego Nail Enamel | Green Apple Wax
The scent is amazing, smells exactly like green apples, you've got to smell it to believe it!  6 blocks, easily broken to melt as many as you would.  
Price: $4.00 | Click Here To Buy | Special: Free Shipping on orders over $25.00 (no code needed)
Aurora 5 Free Nail Lacquer | It's Britney B*tch
Oops we did it again! Just admit it, you loved Britney Spears – girly Britney, sexy Britney, bald Britney – whichever one was your fav, it doesn't matter because AURORA is back with "It's Britney B*tch" for March Polish Pickup! All eyes are on this polish because it is a circus of UCC flakies, metallic flakies, gold flakies and color shifting flakies. Build it up and wear it on its own or put it over black and watch the colors pop!
Price: $12.00 | Click Here To Buy
Baroness X | Acetone Antidote in Cap'n Crunch Berries
This acetone additive has glycerin and jojoba oil to help protect and moisturize your nails, skin, and cuticles during polish removal. The added emulsifier will ensure your mix actually stays mixed after shaking once prior to each use. Most acetone additives do not have this ingredient which causes you to have to shake the acetone bottle at least a few times during polish removal.
Polish Pickup After Party Scents:
Almond Orange Spire – this scent is reminiscent of a blend of orange and almond liqueur. (it's on the fruity, sweet side; but a grown up version, not really a candy or straight fruit scent)
Cap'n Crunch Berries – just like the cereal
Cherry Ice Cream Smile – a creamy scent mix of cherry ice cream with a bit of pie crumble topping. There's NO fake medicine-like, pungent, cherry smell here…this smells just like actual cherry ice cream.
Sharks w/ Frickin' Laser Beams – a saltwater marine based scent with a mix of the following added: iced tea, coconut water, green apple, lemon and kiwi
$3.75 | Click Here To Buy | Special: Orders $35+ will receive a free 8ml of either Liquid Crystal Top Coat or Riveted Base Coat and the PPU polish is discounted to help cover the shipping.
Bluebird Lacquer | Go Ask Alice
Go Ask Alice is a neon pink crelly base with blue to purple ultrachrome chameleon flakes and a micro rainbow flakes, as well as a tiny amount of scattered holo.
$11.50 | Click Here To Shop
BLUSH Lacquers | Electric Bloom
Shown is the original Electric Bloom – it has been reformulated as a 2.0 version.
Electric Bloom 2.0 (2019) is a completely reformulated version of our May 2017 "Science" themed Polish Pickup shade, Electric Bloom. We are unable to bring back the original polish due to fading issues with the neon pigment and because the original shimmer pigment used in this polish is no longer available. While Electric Bloom 2.0 (2019) is not an exact match to the original, it is very, very, close and equally as beautiful! The main differences are that the new version is a little darker and less "neon" (though still quite "bright" in color). The new shimmer is a slightly larger particle size and has a subtle purple shift. We describe Electric Bloom 2.0 (2019) as a magenta based polish with a blue-purple shifting shimmer and holo flakes.
$12.75 | Click Here To Shop | Special: SHIPBLOOMFREE – Free shipping on entire order (international or domestic). 1 use per person, shipping costs must be $40 USD or less to qualify.
By Dany Vianna Esmaltes Artesanais | Forest Of Gold
 Forest of Gold is a golden yellow jelly base with a semi subtle scattered holographic effect, as well as metallic gold micro flakes, purple to blue to green to gold multichrome micro flakes, gold galaxy glitters and gold holo microglitter.
$12.00 | Click Here To Buy
Cameo Colours Lacquers | Til We Both See the Light
Inspired by the album cover of Twenty One Pilot's self-titled album, 'Til We Both See the Light is medium grey crelly base with an assortment of vibrant ultra chrome flakes in a variety of colors and a smattering of silver holographic micro flakes.
$11.00 | Click Here To Buy
Crystal Knockout | Enchanted Nightbird
 It's a dusky mauve to deep eggplant thermal with a subtle linear holo, holographic micro flakies, and a red glow.
$12.00 | Click Here To Buy | Special: Free Domestic Shipping – No Code Needed
Cuticula Nail Care | Grow A Pair Scented Products
Grow A pear is a fizzy pop soda mixed with fresh pears. Made for PPU Badass Woman month inspired by Lucille Ball.
Available in Base coats, Top coats, Confection, and Nail Nectar
DIFFERENT dimension | Dorothy Dandridge
Dorothy Dandridge is a black jelly base with a nice scattering of silver holographic micro flecks.
Available July 12th
Dollish Polish | If One Wolf Survives, The Sheep Are Never Safe
"If One Wolf Survives, The Sheep Are Never Safe" is a midnight blue scattered holo with an amethyst color shift and loaded with silver holo micro flakes and red shimmer flakes!
$12.50 | Click Here To Buy
Dreamland Lacquer | Giverny
 Aqua blue jelly filled with tiny holo glitters, holo pigment, and pink to gold iridescent flakies.
$12.00 | Click Here To Buy  | Special: free US shipping on orders over $20 with code FS20 | FS20INTL will give a $5.00 discount on orders international orders over $20
Emily de Molly | Cute As A Button
A purple that leans almost a light denim blue with iridescent flakes that shift though orange, pink and green.
$10.00 | Click Here To Buy
Ethereal Lacquer | Moonlit Mist
A deepened indigo base with iridescent flakies, aurora shimmer and small particle color shifting flakies
Available July 12th
$12.50 | Click Here To Buy
Fair Maiden Polish | You Got It Dude
A red neon flake crelly with a subtle blue shimmer that can give the polish a pinkish, coral look.  The flakes shift purple-turquoise-blue.  Opacity should easily be reached in 2 coats.
$11.00 | Click Here To Buy
Forty Winks | Unity Jewelry
This design was made using 6 indie polishes including "unicorn pee" and glow in the dark polishes. This is the settings that were originally available but you may customize to any setting and metal tone you desire in the drop-down menu. Charge up in sunlight or artificial light for a strong glow. pendants come with black silk cord, 18 inches, 2 inch extension. Zinc alloy clasp.
$8.00-$12.00 | Click Here To Buy | Special: 20% off whole shop, FREESHIPUS for free domestic shipping, PPU350 for international discount with over $15 spent.
Geekish Glitter Lacquer | Crash Queens & Motor Babies
Crash Queens and Motor Babies is the July Polish Pickup Afterparty polish. It will be available until July 31st. This was available during Polish Pickup March 2019. This is a turquoise crelly with gold microflakies and hot pink-violet-gold UCC flakies.
$10.00 | Click Here To Buy
Great Lakes Lacquer | … Whatever
….whatever is a multichrome mega holographic featuring holo micro flakes, with shifts of red to gold to green with a neutral twist.
Available July 12th
$12.00 | Click Here To Buy
Indie Lacquer | Queen of Pop
Inspired by Madonna, this is a coral red neon polish with matte and holographic black glitters. It is more coral in person than my photos show.
$7.00 | Click Here To Buy
Jior Couture | WTF
WTF is a stunner in a vibrant violent (cool) and passionate pink (cool) transition with an accenting Aurora glow that shifts violet to pink. 
$12.50 | Click Here To Buy | Special: 25% off order with the purchase of $20 or more using code July25
JReine | Hiya Georgie
Red to Yellow thermal with flakies and aurora shimmer.
$13.00 | Click Here To Buy
Kathleen & Co | The Duchess
The Duchess is a cornflower blue crelly base with copper shimmer, scattered holographic pigment and holographic microglitters.
$11.00 | Click Here To Buy
KBShimmer | If You Want My Bodice
Some women have a dirty little secret: every night they escape to a world where a handsome man lusts after their busty figure, and not even a laced up bodice could still the passion that burned between them. At the end of the day, when that beloved book with racy cover gets placed in the nightstand, the pages worn and dog-eared, those women thank Harlequin and Silhouette for the tales of intrigue, romance, and of course, lust. Based on the cover of a "bodice ripper" romance, KBShimmer's If You Want My Bodice is full of lusty goodness. This shifty polish starts with a blend of multichrome pigments that in indirect light, help this polish travel from a cool minty teal to a deep lavender. Flecks of unicorn flakes shift in a rainbow of colors that dance among the colorful base. In brighter light, micro holo flakes sparkle, while deeper hues of magenta and blue come out to play. 
$10.00 | Click Here To Buy
Lollipop Posse Lacquer | Your Name Belongs to Me Now 2.0
Inspired by Yubaba (also from "Spirited Away") and her name-stealing ways, this shade is a navy blue crelly that suspends red/green shifting shimmer, rust/red/green shifting multichrome pigment, and holographic flakies. Please note that due to pigment changes at the manufacturing level, the 2.0 version of this polish is visibly different from the original in several ways. The new shifting pigment causes the base to lean a darker shade of navy, but there is definitely more multichrome shift!
Available July 14th-July 31st
$12.00 | Click Here To Buy | Special: Use Code THREEFORYOU for $3 off any order containing the LPP rewind shade
Lucky 13 Lacquer | Secretly A Mermaid
Secretly A Mermaid is a seafoam blue to deep ocean teal thermal with red to green color shifting shimmer, red to gold to green and purple to blue to green color shifting crystal flakes.
$13.00 | Click Here To Buy | Special: use the code LUCKY at our website for free shipping on all US orders $13+
LynBDesigns | Your Cowplant Or Mine
A creamy green base with magenta to purple to gold shifting shimmer, scattered holo micro shreds, and a ton of purple to blue to red and blue to green to gold shifting UCC flakies
$12.00 | Click Here To Buy | Special: free US shipping on orders over 20 dollars with code PPUSHIP and free international shipping with orders over 50 dollars with code PPUFREESHIP
Moon Shine Mani | Uncover You
Inspired by the Fairlane Uncover You EP artwork, this soft mauve crelly is filled with vibrant purple to blue and violet to red to orange chameleon flakies and glowing pink to gold to green aurora shimmer.
$12.00 | Click Here To Buy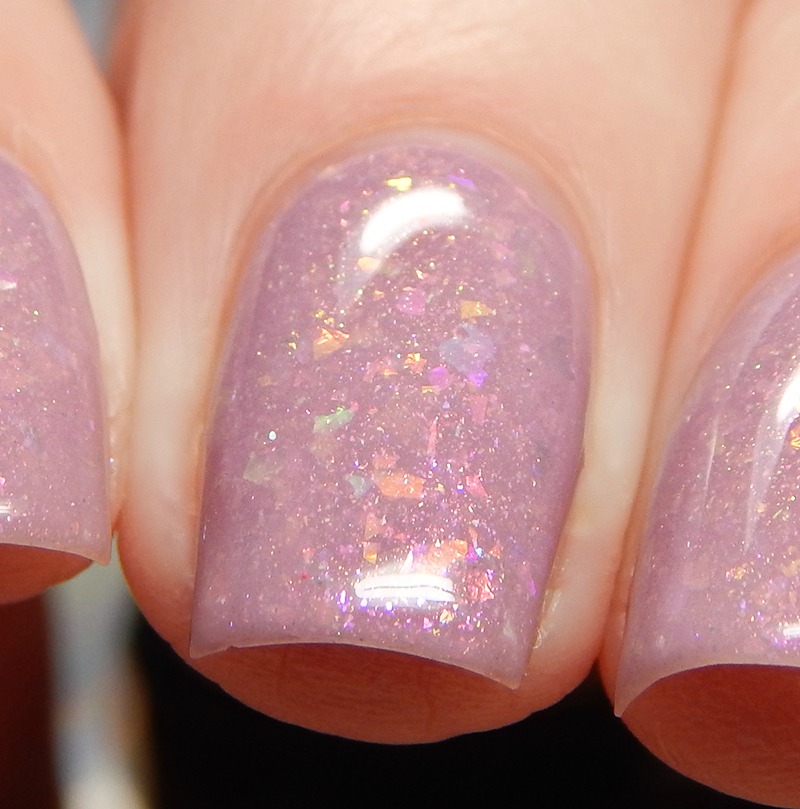 Moonflower Polish | Enchanted Rose
 Enchanted Rose is a red leaning pink holographic stamping polish that can be used as a standalone polish or for stamping.
$12.50 | Click Here To Buy | Special: Free shipping on orders over $50 with code FREESHIP. Or use code JULYPPU2019 to get only Enchanted Rose shipped for free. Enjoy 20% off all our other polishes (no code needed). Sale ends July 31st.
My Indie Polish | Hendrix
 Hendrix is a deep berry purple jelly base with shifting flakes that show off magenta, orange, green and gold. 
*I don't see this listed on her site currently and am unsure if it's releasing again or not. It was in the original spreadsheet but things may have changed.
Nailed It Nail Polish | The Jackal
A lavender gray flakie crelly with a strong purple shimmer, packed full of blue/purple/green UCC flakies, blue micro flakies, and a scattered holo.
$12.50 | Click Here To Buy | Special: US orders use code PPUREWIND for free shipping | Int customers use PPUREWINDINT for 25% off
Pahlish | Material Emancipation Grill
Material Emancipation Grill is a dusty blue based scattered holographic with extra holo pigment, holo flakes and a rosy- copper to green shifting multichrome shimmer.
Available July 14th – July 31st
$11.00 | Click Here To Buy
Pampered Polishes | Khaleesi
 Khaleesi is an off white crelly base with 8 different ultrachrome chameleon flakes, holo microglitters, iridescent glitters, gold flakes, and copper shimmer.
*I don't see this on her site just yet, but again – it was on the spreadsheet. Not 100% sure if she's bringing it back.
Peachtree Polish | The Devil's Eye
Bright red crelly loaded with micro holographic glitters and green/teal/blue/purple UCC flakes
Price: $10.50 | Click Here To Buy | Special: Offering free shipping with code ILOVEPPU when you spend $11.00 or more.
Poetry Cowgirl Nail Polish | Sing 'Em Good
Sing 'Em Good is a cerulean/teal blue base with red-green aurora pigment, Red-Orange-Gold UCC pigment, and scattered holo.
$13.00 | Click Here To Buy | Special: 20% off of $20 or more using code JULYPPU
Polished Craftology | Rainbow Bowls
This 3.75 in diameter ring bowl is inspired by the rare Fallstreak Hole phenomenon. This ring bowl is handcrafted from marbled blue, white, and glitter polymer clay. Rainbow foil is applied to the raw clay, and then the clay is hand stretched and molded around a form for baking. After baking, gold foil is hand applied and then sealed on the rim. This ensures each bowl is unique and special! 
$12.00 | Click Here To Buy
Pretty Jelly | I Am Groot
I Am Groot is a turquoise green metallic flakie flecked with holographic flakes and red/orange/gold multichrome flakies.
$13.00 | Click Here To Buy
Rogue Lacquer | God Of Mischief
God of Mischief is a teal jelly base with green to blue shifting unicorn pigment, scattered holographic and green to blue to purple color shifting flakes.
$12.50 | Click Here To Buy | Special: free domestic shipping orders over $20 from 7/9-7/31 code: PPUPARTY (cannot be combined with any other discount code)
Sassy Pants Polish | Blood Rain
Blood Rain, a red/copper/gold chameleon shifting magnetic polish with blood red holographic flakies.
$12.00 | Click Here To Buy
Starlight Polish | Pilot 02: Duo Maxwell
This polish has red to green unicorn pee pigment (original unicorn pee, not aurora pigment), a touch of blue to purple UP sister pigment, purple-blue shifting flakes and iridescent glitter, green to gold iridescent micro glitter, and just a hint of fine silver sparkle, all in a smoky black jelly base.
$17.00 | Click Here To Buy | Special: Orders $25 and up that include the PPU polish receive $4.00 off shipping (automatically applied, no code required).
Stella Chroma | The Whole Brevity Thing
Taking inspiration from The Dude and his super chill living room Tai Chi session, The Whole Brevity Thing is a faded purple with yellow-green Aurora shimmer and red-orange UCC flakies to really tie it together.
  $12.00 | Click Here To Buy
Supernatural Lacquer | They're Coming to Get You, Barbara!
A deep purple base with green to purple shifting aurora shimmer, blue to green to gold ultrachrome chameleon flakes, green to blue to gold color shifting flakes, purple neon micro flakes and a midnight black micro flakes and scattered holographic. 
$12.50 | Cap: 85 Bottles | Click Here To Buy | Special: $3 off/bottle with code AFTERPARTY
Sweet Heart Polish | Hey, Catnip
Hey, Catnip is a warm golden brown shimmer with gold and copper holo micro glitters. It is inspired by Katniss Everdeen, from Hunger Games, and the first interaction between her and Gale in the woods while hunting on reaping day.
$10.00 | Click Here To Buy
The Crafty Taco | Fairy Fire Bag Charms
Originally part of the Enchanted Forest/Badass Women double feature month back in December 2018, these beautiful sparkling charms are just what you need to ward off meddlesome forest folk! Each one is indivually crafted especially for you! These are slightly revamped from the original 2018 version, but I think that I may like these better!
$9.50 | Click Here To Buy
The Lady Varnishes | That's A Killer Album
This is a periwinkle blue varnish has red to green shimmer glitter and flakes. Inspired by The Killers' Hot Fuss album 
$13.00 | Click Here To Buy
Top Shelf Lacquer | Your Hair Deflated!
Top Shelf Lacquer used HairSpray the Musical for her inspiration for August. "Your hair deflated!" is a gorgeous teal blue base, with color shifting flakes that glow with a super shifting pigment that shifts from violet to neon green!  
$13.00 | Click Here To Buy | Special: 15% off entire store with code July2019
Wildflower Lacquer | Horrific Harlequins
Horrific Harlequins was inspired by the movie Killer Klowns from Outer Space. This is a dark purple with magenta shimmer, UCC flakies that shift from red to gold, scattered blue illusion flakies, purple and aqua sparks, and a touch of holo flakies.
$13.00 | Click Here To Buy | Special: The code is "PPU" and is good for 25% off any order containing Horrific Harlequins
Zombie Claw Polish | Riding The Morning Glory
Coming back from the grave from Polish Pickup June 2019. A white base polish with tiny micro rainbow flakes, blue to purple shimmer, blue micro matte glitters, and pink-gold-green flakes.
Price: $11.50 | Click Here To Buy | Special: Free Shipping all month with the code "freeship"
July 2019 Polish Pickup | After Party
There we have it! This post was compiled by readily available information I could find, or that was provided by each maker to me directly. I may have missed some that I did if I was unaware it was coming back.
I did create a spreadsheet with all returning polishes, as well as links to each shop – you can find it HERE.
If any info has changed, or was not submitted – then I apologize if it's not 100% correct. Most of it should be though.
Most of these are available from July 9th through the 31st. If it's a different date, I tried to notate that under each one.
I hope everyone has enjoyed the July Throwback/Flashback as well as Afterparty!