Press Sample of the Polished Gamers Box
November 2020 | Diablo
For the third time this year, I am back as the BOTM for the Polished Gamers group shop. The Polished Gamers Box for November 2020 is themed Diablo!
This month is Diablo – and I do play this game as well. Not as much as World of Warcraft – but enough. Nick actually got me into playing Diablo about 6 or 7 years ago. So when I saw the names of these polishes, I knew what the inspiration was and the meaning behind it.

I personally prefer playing a Witch Doctor or Necromancer, while Nick is partial to Demon Hunter or Crusader. My initial toons were Demon Hunters and Wizards, so my Witch Doctor isn't max level yet… but when I get time to play her – I really enjoy it. More so than previous toons.

And you can always hear one of us scream out "TREASURE GOBLIN!" when we are in encounters together and see one pop up.

I've also referred to my spawn as a treasure goblin before.

Anyways – Polished Gamers! Let's talk a little about it!

The Polished Gamers Box is a game themed box featuring several makers each month. Each box will have a gaming related theme and feature different types of indie products that include nail polish, nail care, body care, wax, and other handmade items.

While it's called a 'Box" you get to pick and choose the individual items you want. If you want 10 of the same polish – have at it.. you can do that. If you want 1 of each item, you're more than welcome to do that as well. Some items may be capped, and that info should be under each listing below – but you can also find it on the website.

The box will launch on the 15th of each month, and will be available for a 5 day preorder window. The turn around time will be approximately 4 weeks after the box preorder ends on the 20th of each month.

Ready to jump in? Also – don't forget to join the Polished Gamers group on Facebook. While the group shows off these creations – if you are a gamer who loves polish – it's the place for you.
1422 Designs | Rebellious Student
Inspiration: Li Ming fan art

Description: Rebellious Student is a warm, dark purple jelly base with mauve-red-orange-yellow chameleon larger particle shimmer. I used 3 thin coats and a glossy top coat for these photos. The last photos of it matte stole my heart.

Application was smooth and beautifully done for this shade.

Price: $11.50 | Cap: 35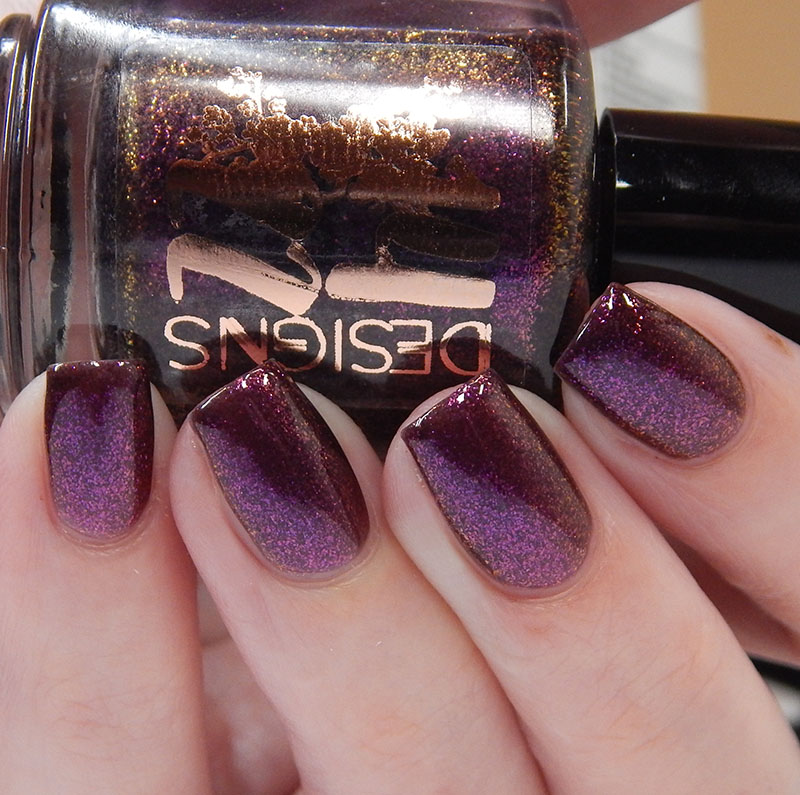 All Mixed Up Lacquers | Drop Ye Booty
Inspiration: Rainbow Goblin

Description: Drop Ye Booty is a bright, borderline neon pink with a rainbow assortment of medium sized hex glitters, ultrachrome chameleon flakes and shimmer. I used 3 thin coats and a glossy top coat for these photos.

You shouldn't need more than 1 coat of top coat unless you grab a ton of glitters. The base does nicely float and cushion the glitters, preventing too much texture.

Price: $12.00 | Cap: 30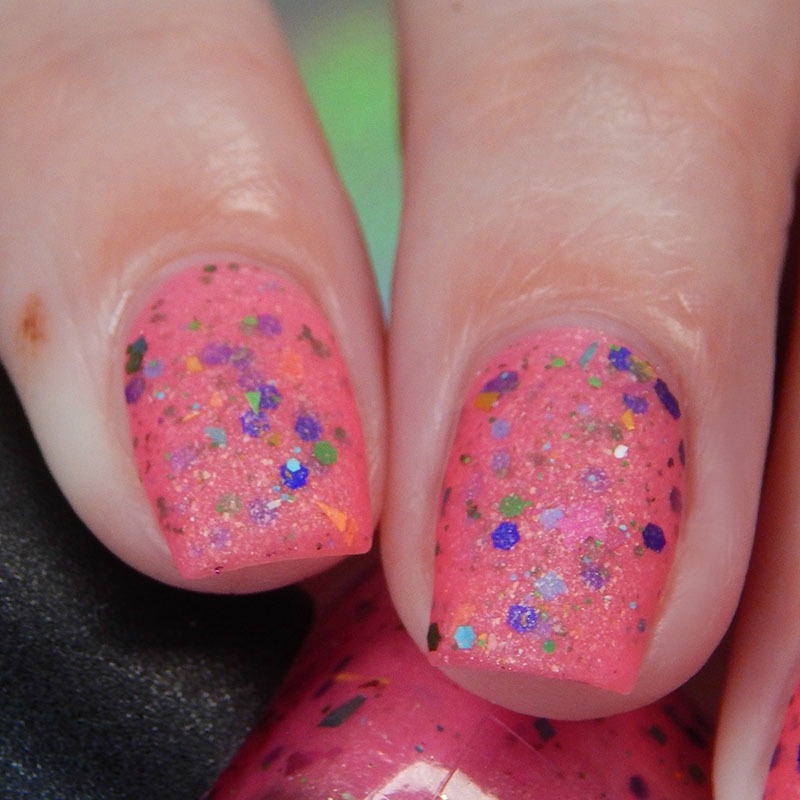 Alter Ego Body Care Products | Crusader
Inspiration: Class to play in Diablo

Description: Crusader is a clear base loaded with silver micro flecks and black microglitters. This can be a topper, but i used it in 3 thin coats. Very mild texture and only needed 1 coat of top coat to smooth.

Bottle shown is a mini size, purchased size is 17ml

Price: $10.00 | Cap: None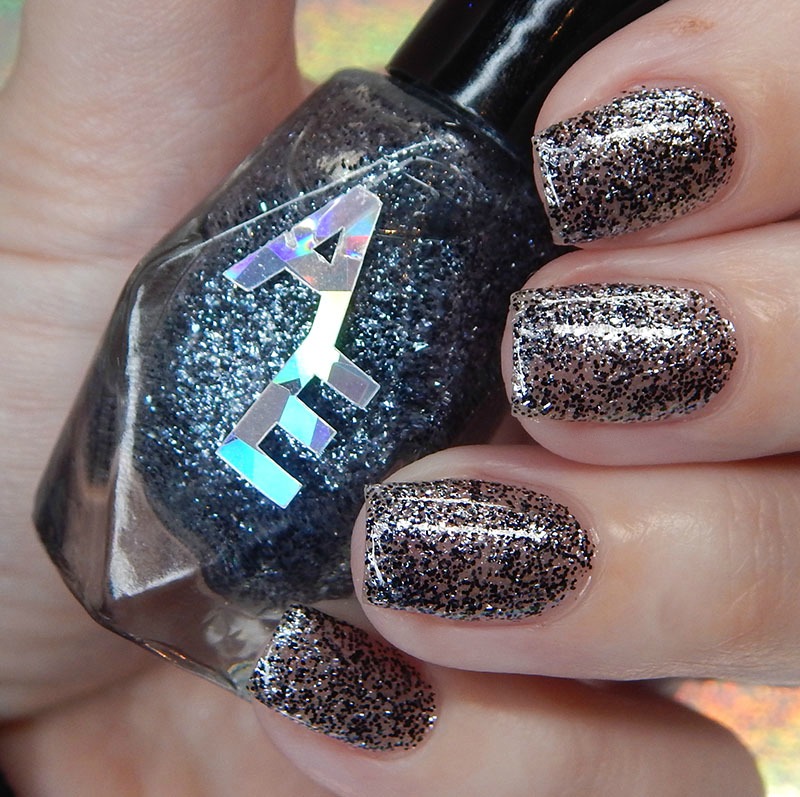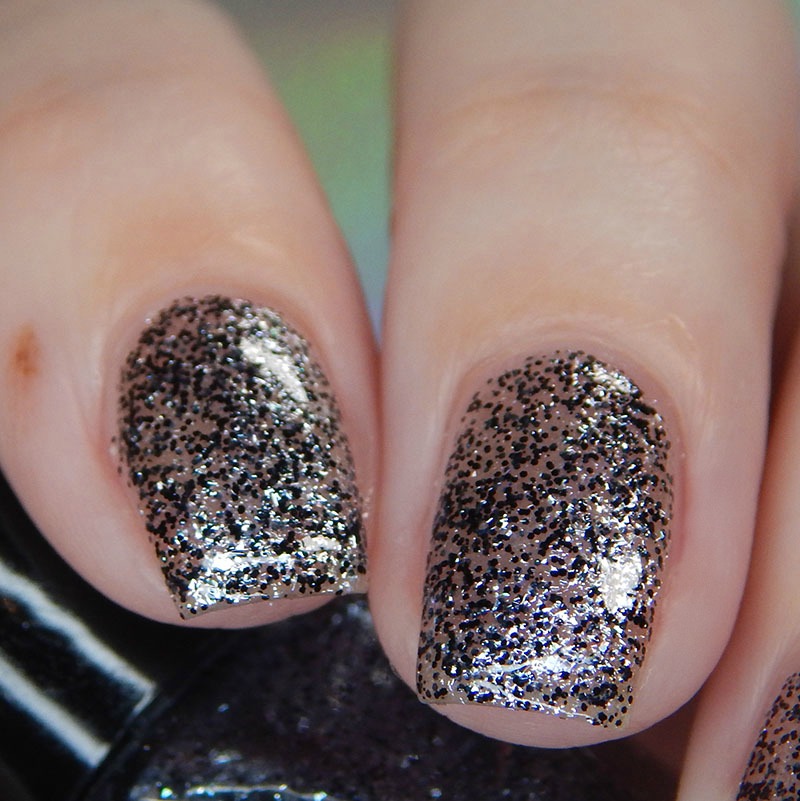 Atomic Polish | Just Cause
Inspiration: Heavenly Imperius Image

Description: Just Cause is a semi sheer, pale, but vibrant blue jelly base loaded with green to gold to red shimmer. It's sheer enough to use as a topper, but the shimmer gives the illusion of opacity after about 3 coats. However, if you have a strong VNL, you might need a base color or "nail foundation" to hide it. Shown is 3 thin coats alone and 1 coat over black.

Price: $12.50 | Cap: None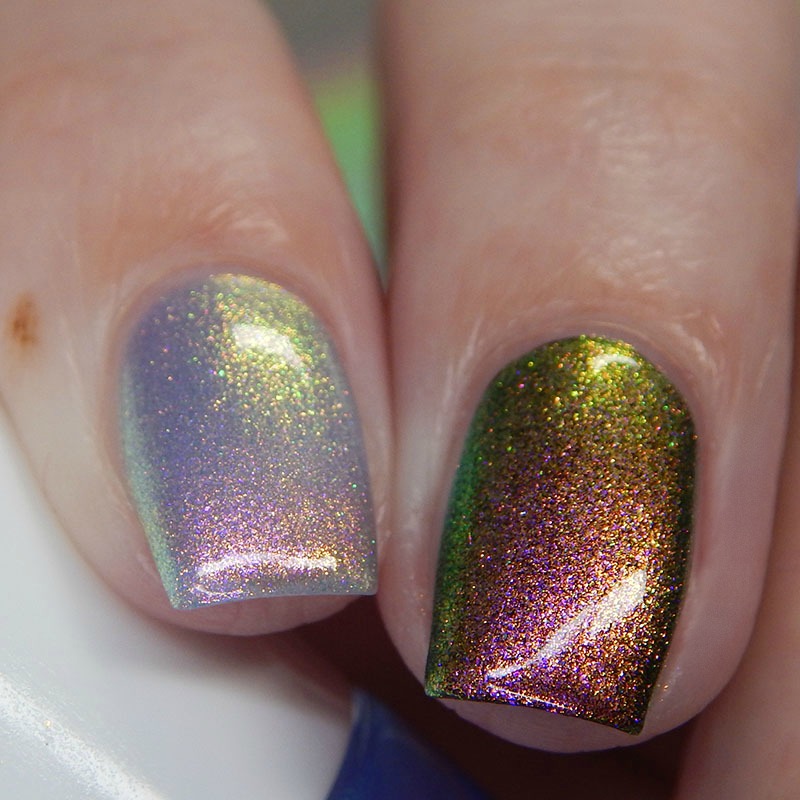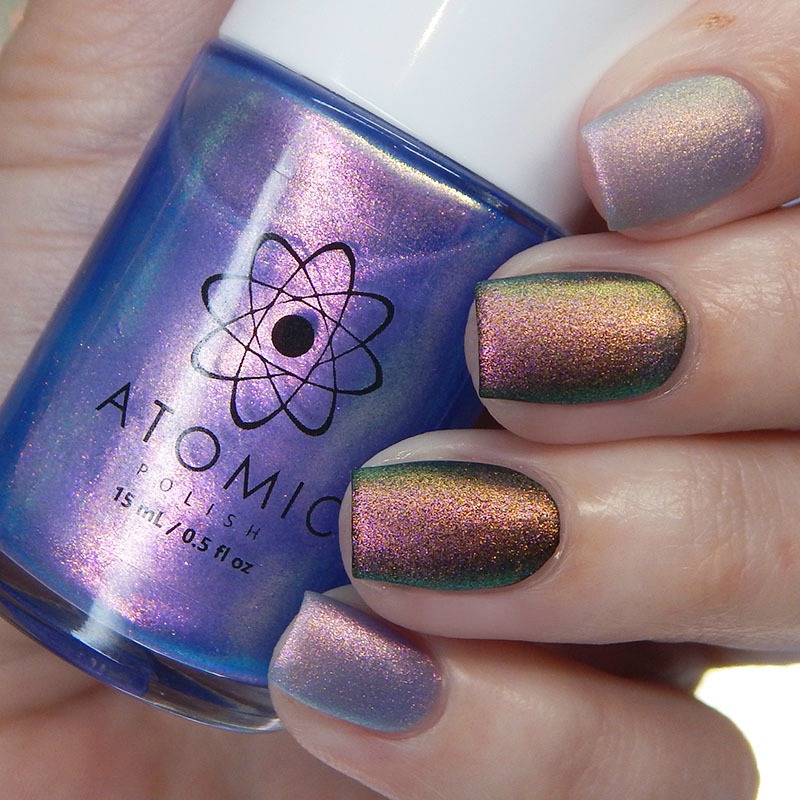 BCB Lacquers | Helltooth Gargantuan
Inspiration: Embodying the Witch Doctor — surrounded by an undead army and draining the life away from his enemies and summoning spirits.

Description: Helltooth Gargantuan is a black jelly base with green to gold and purple to gold ultrachrome chameleon flakes, and a subtle purple shimmer. I used 3 thin coats and a glossy top coat for these photos.

This base does lean on the sheerer side, but the flakes help hide some of that.

Price: $12.50 | Cap: 100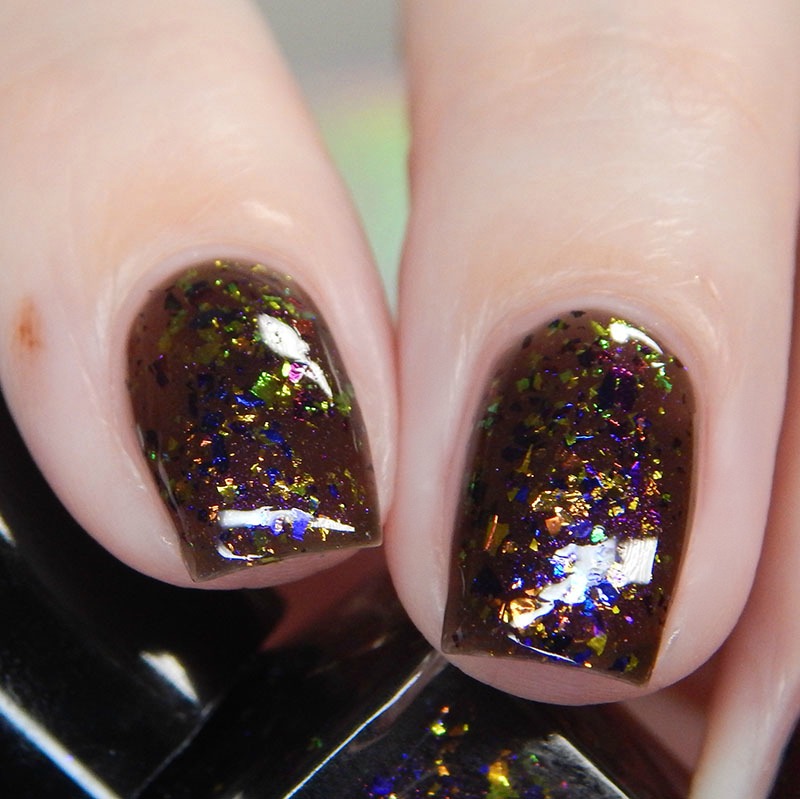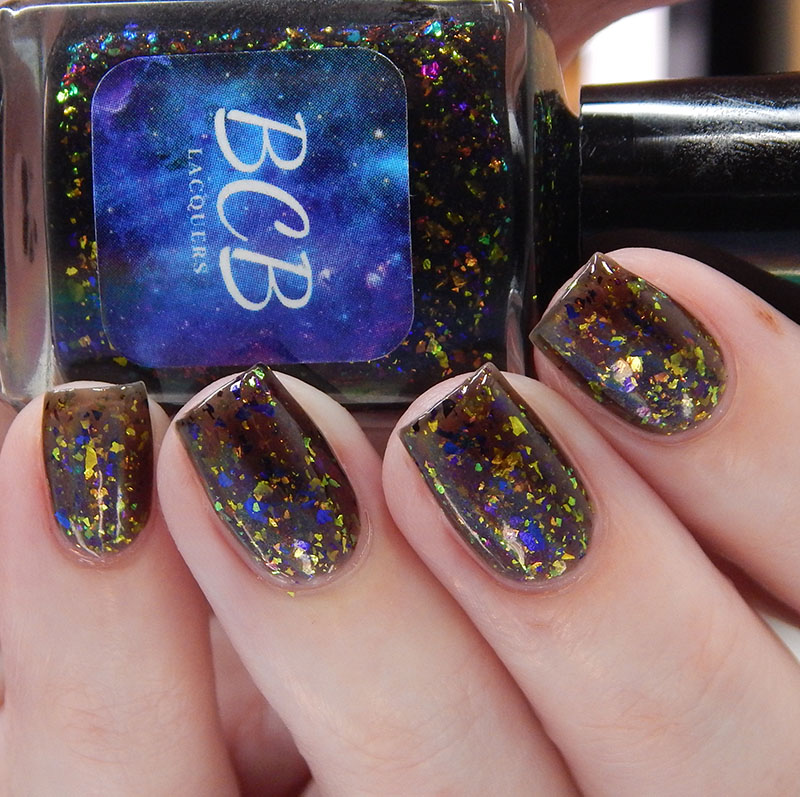 Black Dahlia Lacquer | Nephalem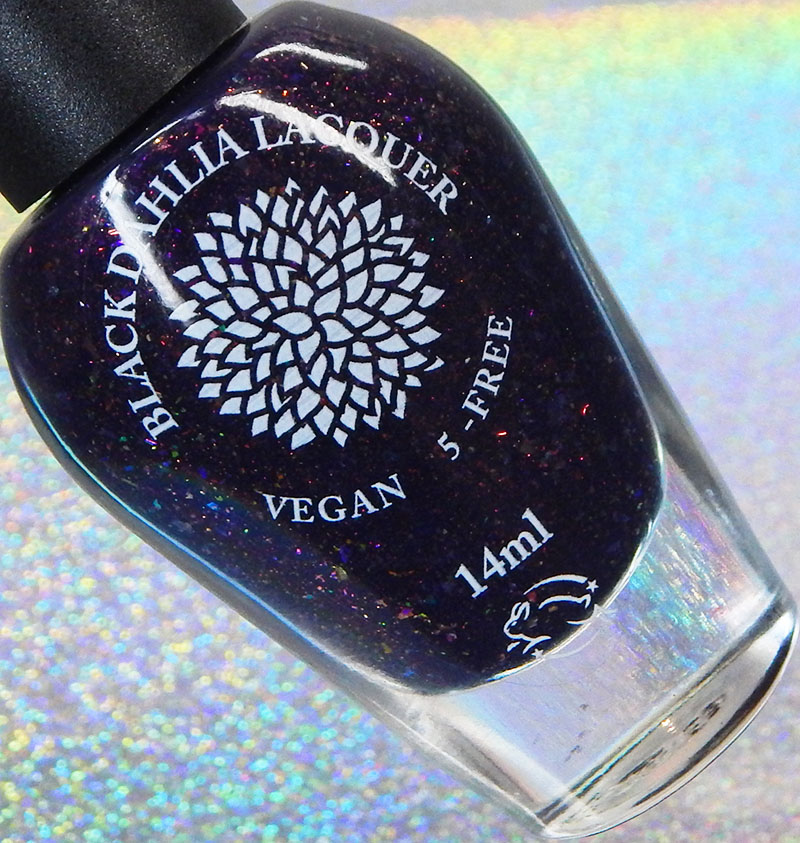 Inspiration: Lilith from Diablo

Description: Nephalem is a deep plum crelly base with gold to green to red to purple shifting flakes, red to copper to turquoise ultra chrome chameleon flakes, tiny shifting iridescent flakes and red and gold metallic flakes, as well as a sprinkling of gold micro glitter.

Deep breath. That was a mouthful.

I used 3 thin coats and a glossy top coat for these photos. Another magical shade when matte.

Price: $11.50 | Cap: 60
Bonparsco | Sorceress Moroccan Mint Soap
Inspiration: The colored swirls represent an electrical scene by Sorceress in Diablo II

Description: Bonparsco brings us SOrceress Moroccan Mint soap and it's such a light, refreshing scent. The cap is low – and I want one so bad, but I don't want to be greedy. If any are left on final day though – I'm snapping them up.

These soaps are enriched with Mango and Shea butters and didn't leave my skin feeling tight and itchy. Instead they felt nicely hydrated with a faint whiff of mint and cucumber.

The scent profile is mint, cucumber, juicy clementine, cyclamen blossoms, lily and cactus. I definitely get the mint and cucumber, and a very light floral note. I'm not sure if that's the lily or the cyclamen blossoms. It's light enough (floral wise) to be a good unisex scent or for those not into floral.

There's also iridescent glitter sprinkled along the top. Adds a nice touch to the bright swirls.

Definitely buying a backup if more are still there on last day.

Price: $6.50 | Cap: 13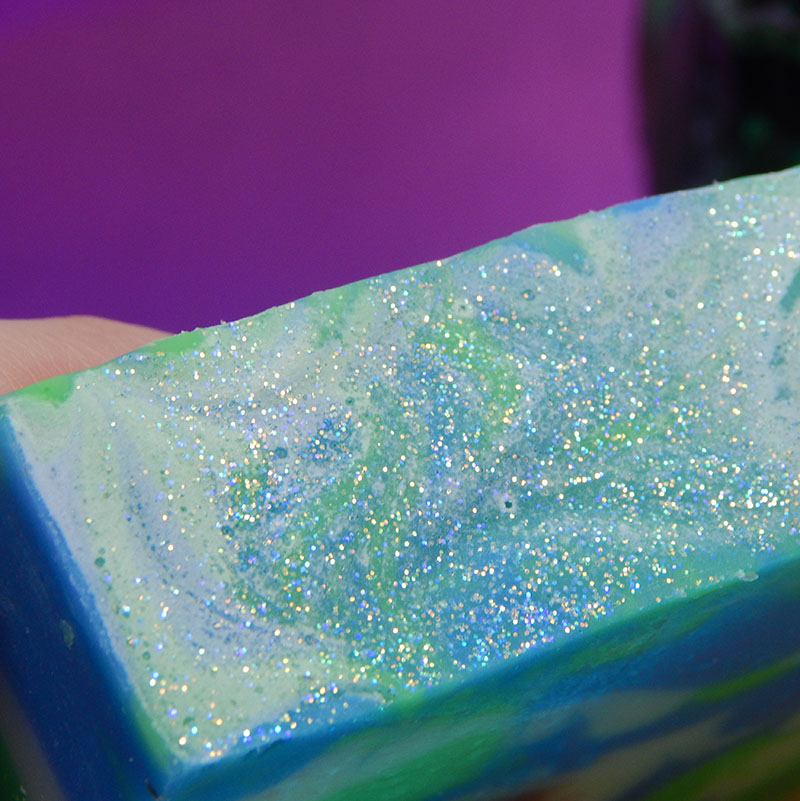 By Dany Vianna | Tyrael
Inspiration: Tyrael Archangel

Description: Tyrael is a sheer gold metallic base with gold to bronze to blue ultra chrome chameleon flakes, as well as blue to violet shimmer. I used 3 thin coats and a glossy top coat for these photos.

Price: $12.00 | Cap: 50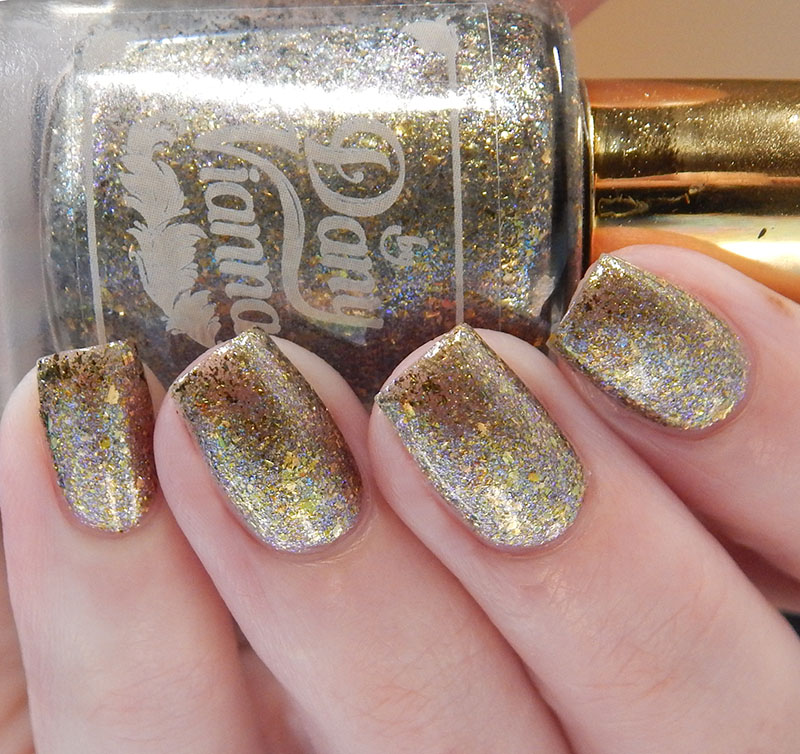 By Vanessa Molina | IMPERIUS
Inspiration: Imperius Archangel image

Description: IMPERIUS is a black jelly base loaded with gold to bronze shimmer, Gold to bronze chrome flakes, magenta to violet chrome flakes and a semi subtle scattered holo effect. I used 3 thin coats and a glossy top coat for these photos.

Price: $13.00 | Cap: 150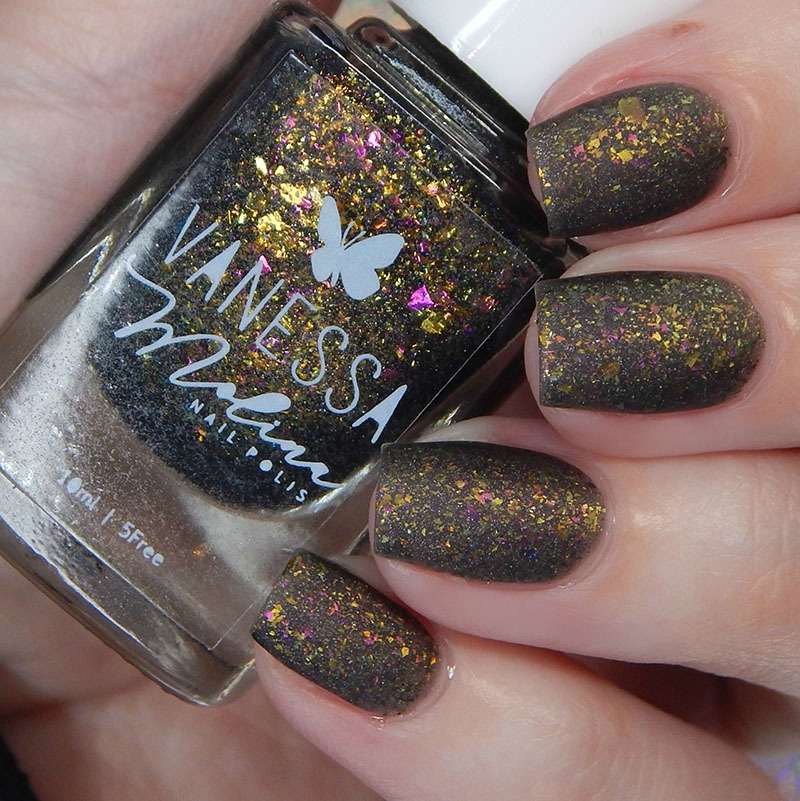 Color Spectrum Polish | The End of Days
Inspiration:Foggy night scene of sanctuary at moonlight

Description: The End of Days is a black jelly base with a deep ink blue shimmer, with holo micro flakes and orange to gold to magenta shifting ultrachrome chameleon micro flakes. I used 3 thin coats and a glossy top coat for these photos.

The jelly base looks black to me, but it's possible it's a blackened blue. Either way – the blue shimmer looks amazing against the deep base.

Price: $12.00 | Cap: 50
Colores de Carol | Wings of Destruction (Glow In The Dark)
Inspiration: Prime Evil Wings

Description: Wings of Destruction is a clear based topper with violet to pink to gold aurora shimmer and iridescent chameleon flakes. It glows a violet blue in the dark. I used 3 thin coats alone as well as 1 coat over black.

The base looks sheer and milky in the bottle, but on the nail it's primarily clear and didn't cloud the black creme at all.

Since I didn't wear it all day to charge it in UV light, I did use the assistance of a UV flashlight for the GITD photos.

Price: $12.00 | Cap: None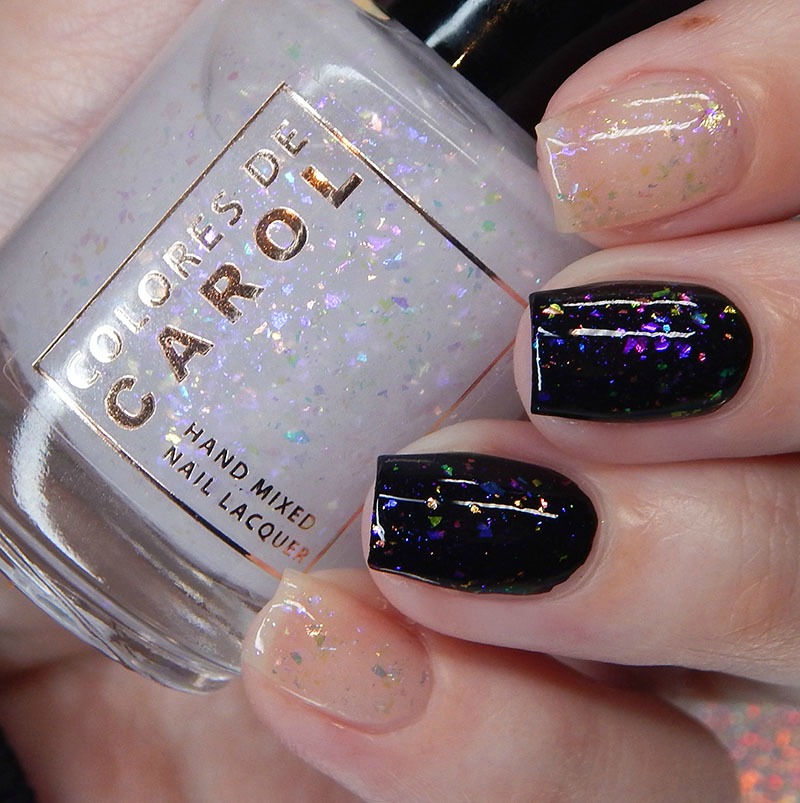 Copacetic Cosmetics | Army of Undead (Thermal)
Inspiration: Necromancy

Description: Army of Undead is a pale grey (warm) to deep grey (cold) thermal base loaded with teal shimmer that simply glows against the base. Very ethereal looking. I used 3 thin coats and a glossy top coat for these photos.

Price: $10.00 | Cap: 100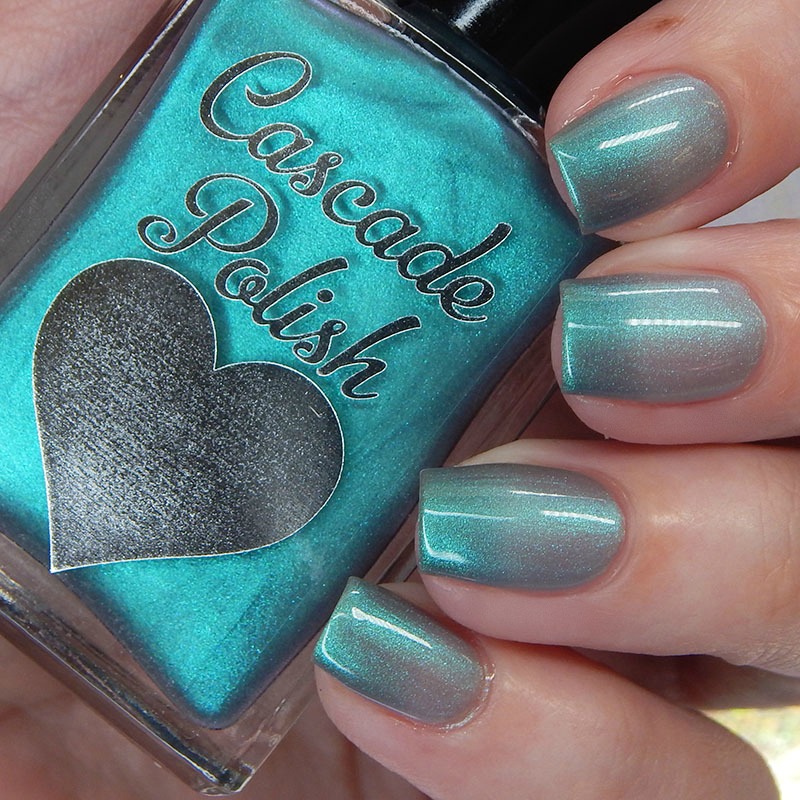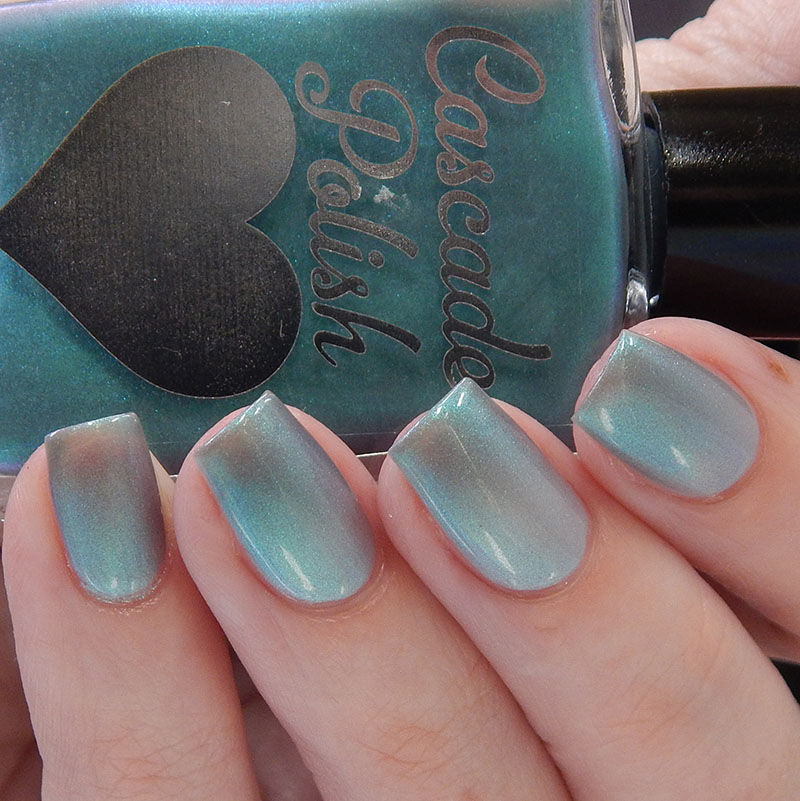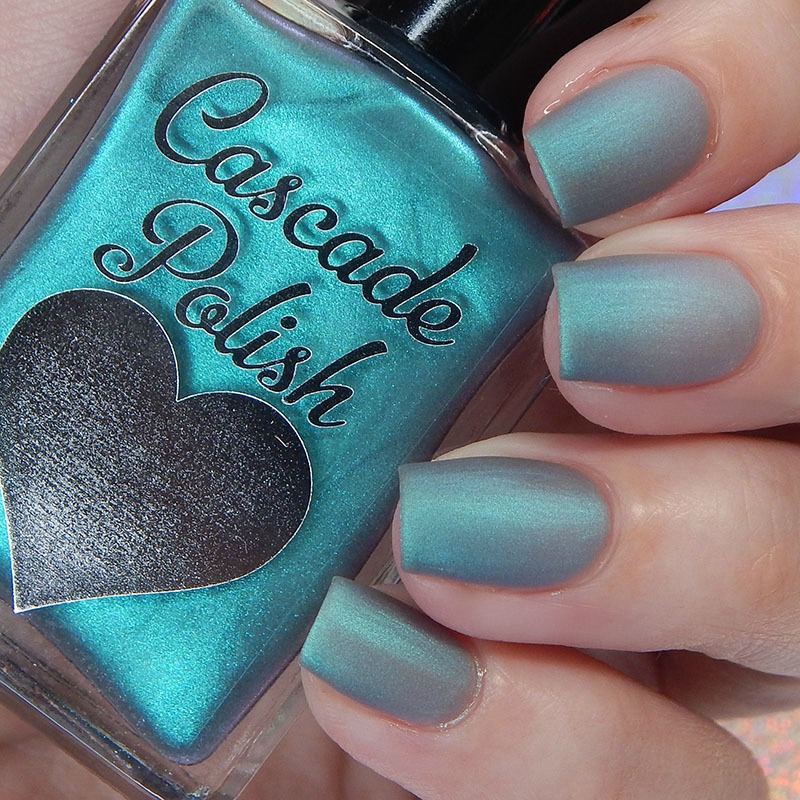 Esmaltes da Kelly | Barbarian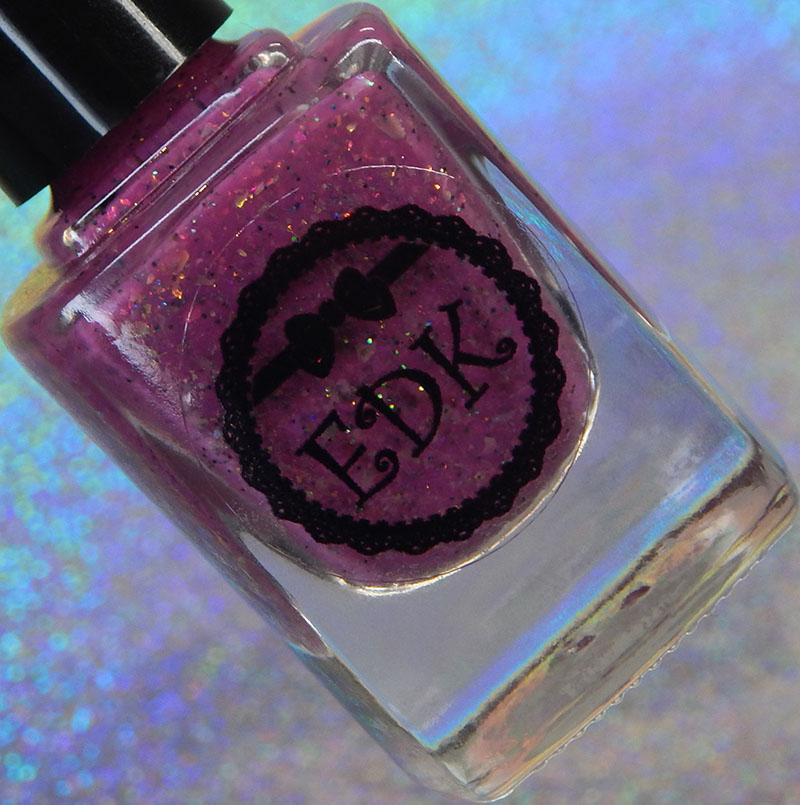 Inspiration: Barbarian Image

Description: Barbarian is a medium mauve crelly base with gold to pink to violet iridescent flakes and galaxy glitter. I used 3 thin coats and a glossy top coat for these photos.

This shade is a bit lighter in person. My camera kept pulling out strong fuchsia like tones, but in person it's not this deep in color.

Price: $12.50 | Cap: 150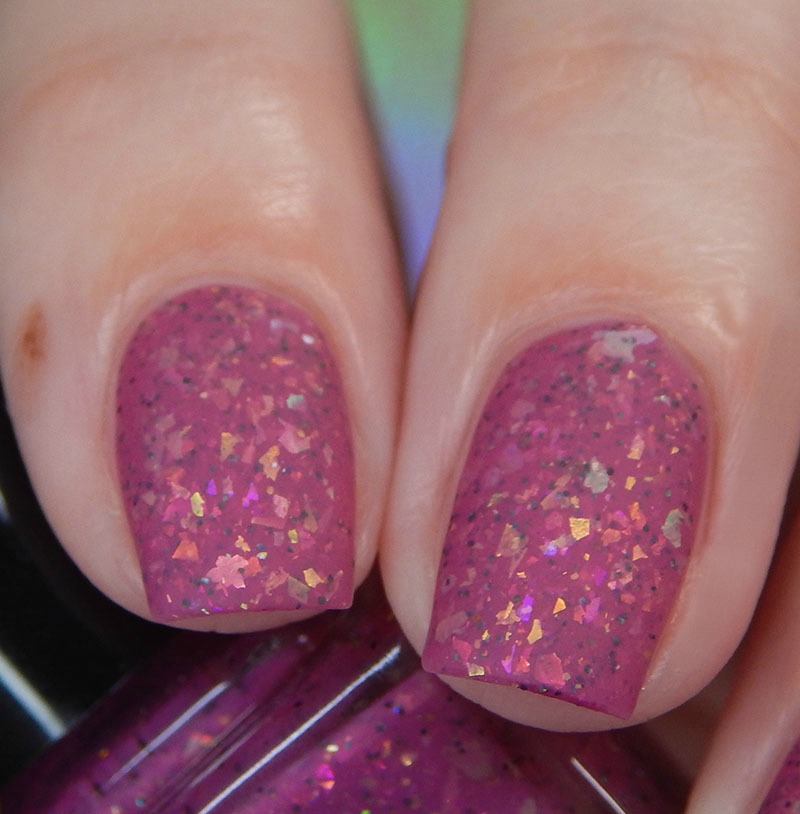 Ethereal Lacquer | Arcane Magic
Inspiration: Arcane magic

Description: Arcane Magic is a bright violet base loaded with bright pink to peach shifting shimmer, and a very light sprinkling of holo. I used 3 thin coats and a glossy top coat for these photos.

Price: $13.00 | Cap: None
Geekish Glitter Lacquer | The Madness Of Greyhollow Swatcher's Soap
Inspiration: Greyhollow Island

Description: The Madness Of Greyhollow Swatcher's Soap is a combination of whipped soap and light sugar scrub that's perfectly balanced. Why would it be called Swatcher's Soap? Easy. When I'm doing long swatch sessions, or even just removing 1 polish, sometimes there is a little buildup around the cuticles or some dry skin that's about to shrivel up. Swatcher's Soap softens with a moisturizing whipped soap and the sugar scrub sloughs off dead skin and product buildup.

The scent is an earthy but refreshing scent. It has that dirt scent that's mellowed out with a light salty ocean like scent. My hands feel really soft after using this.

Price: $6.00 | Cap: 50
Indie by Patty Lopes | Angels & Demons (Magnetic)
Inspiration:

Description: Angels & Demons is a stunning multichrome magnetic. The base is a sheer black jelly with a ton of violet to magenta to orange to gold magnetic pigment, as well as matching ultrachrome chameleon flakes that are semi hidden until you hit it with a magnet. I used 3 thin coats and a glossy top coat for these photos.

Price: $12.50 | Cap: 150
Jen & Berries | Fall From Grace
Inspiration: Fall From Grace is inspired by Lilith, the queen of deception. Her romantic partner was Inarius, an archangel, and their children were the first Nephalem (half angel/half demon). While Inarius wanted to eradicate them due to their immense power, Lilith wanted to use them as her own army, which got her banished from Sanctuary.

Description: Fall From Grace is a deep sapphire blue creme base with ice blue micro flecks, as well as a mix of red holographic glitter and red micro glitter. I used 3 thin coats and a glossy top coat for these photos.

Price: $11.50 | Cap: 65
Lollipop Posse Lacquer | Blood of the Willing
Inspiration: A screen grab from the Diablo 4 Cinematic trailer: The Pale Man (Rathma, perhaps?) reaching up towards the newly emerged Lilith.

Description: Blood of the Willing is a dusty, light-medium blue crelly base with red to orange to gold ultrachrome chameleon flakes and red to orange to gold to green irirdescent flakes. I used 3 thin coats and a glossy top coat for these photos.

Price: $12.50 | Cap: None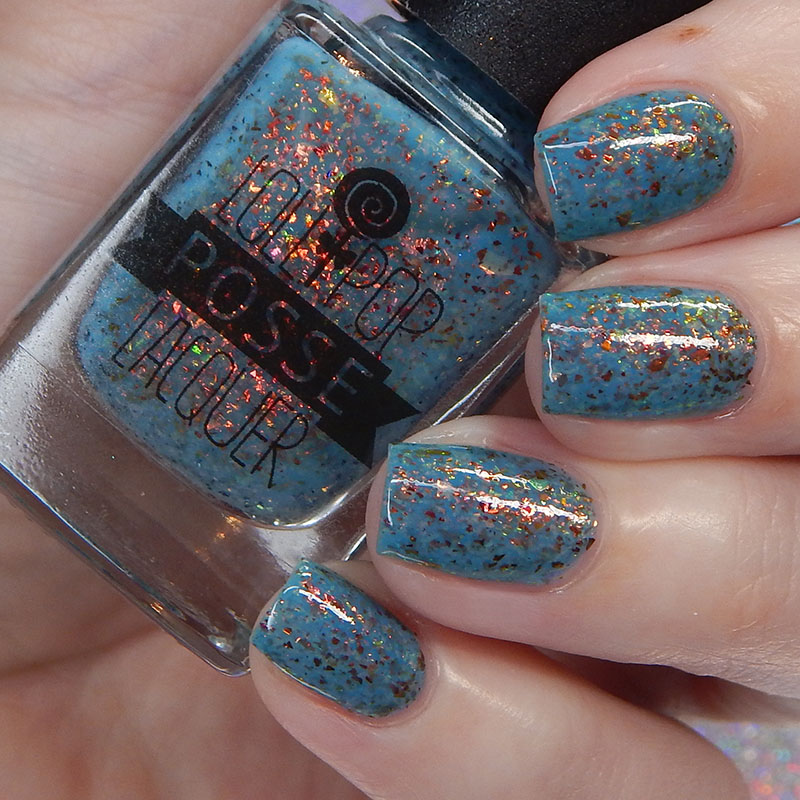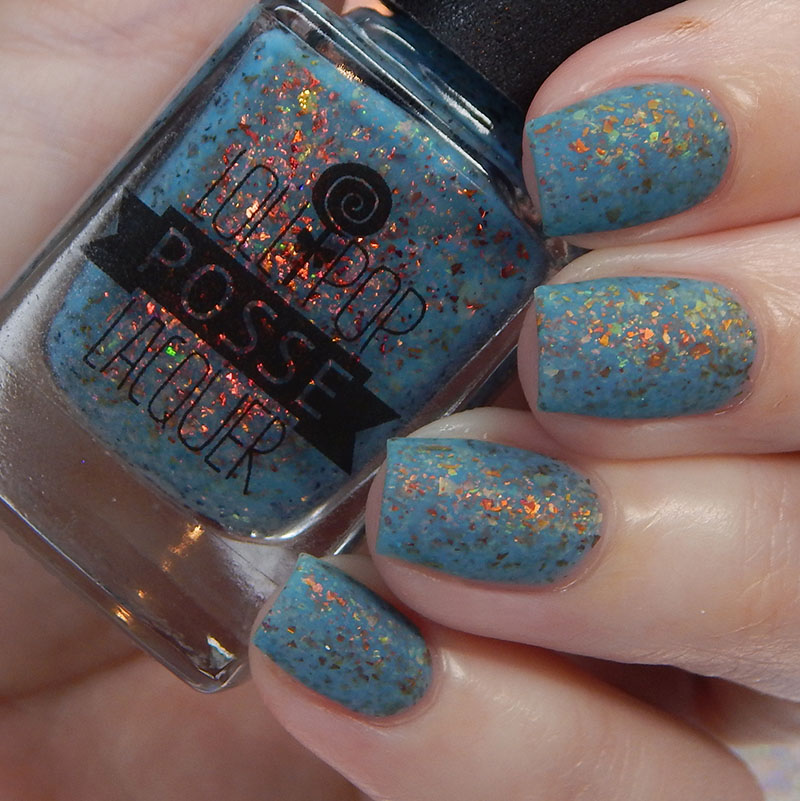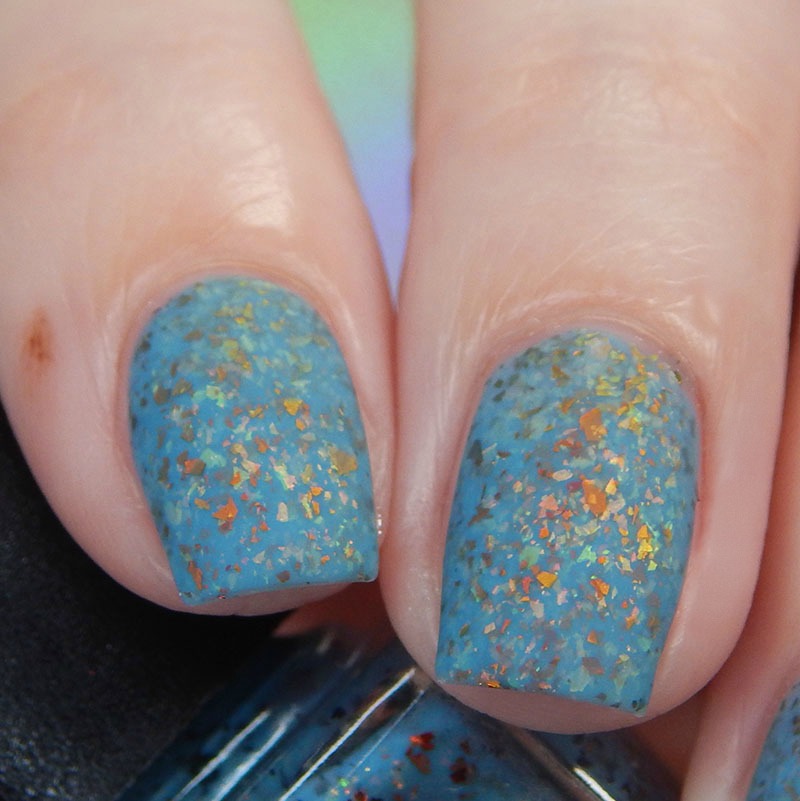 LynBDesigns | Queen Succubus (Thermal)
Inspiration: Lillith

Description: Queen Succubus is a blackened red (cold) to bright orange tinged red (hot) crelly based thermal with red to gold shifting ultra chrome chameleon flakes and holo micro shreds. I used 3 thin coats and a glossy top coat for these photos.

Price: $12.00 | Cap: None