I have a few polishes to share that are new to the Color4Nails shop! First up we have the newest blogger collab shades from Picture Polish, which are Clouds, Tasha, Cozy, Haven & Dandelion!
I get a really strong Spring vibe from this roundup of blogger collab shades. I like the shades, but find them slightly subdued. Picture Polish has always been pretty good about keeping colors in groups that mesh well together.
All  of these and more are available at Color4Nails, so when you pop over there to check them out you can use the code CSant10 at checkout to snag an extra 10% off your entire Color4Nails order.
Let's take a peek at the newest 5 shades to the Picture Polish lineup.
Clouds
Clouds is a collab shade with son_nail and it's a sky blue crelly base with silver holo flecks mixed in. This shade was a little on the thinner side and I needed 3 coats and a glossy top coat for these photos.
Cozy
Cozy was created with borsch_nails. This is a mustard yellow crelly liked base with densely packed silver holographic fleck particles. I used 3 thin coats and a glossy top coat for these photos.
This wasn't a thinner consistency like Clouds was, but the crelly like base leaned more jelly so I needed 3 coats for full opacity.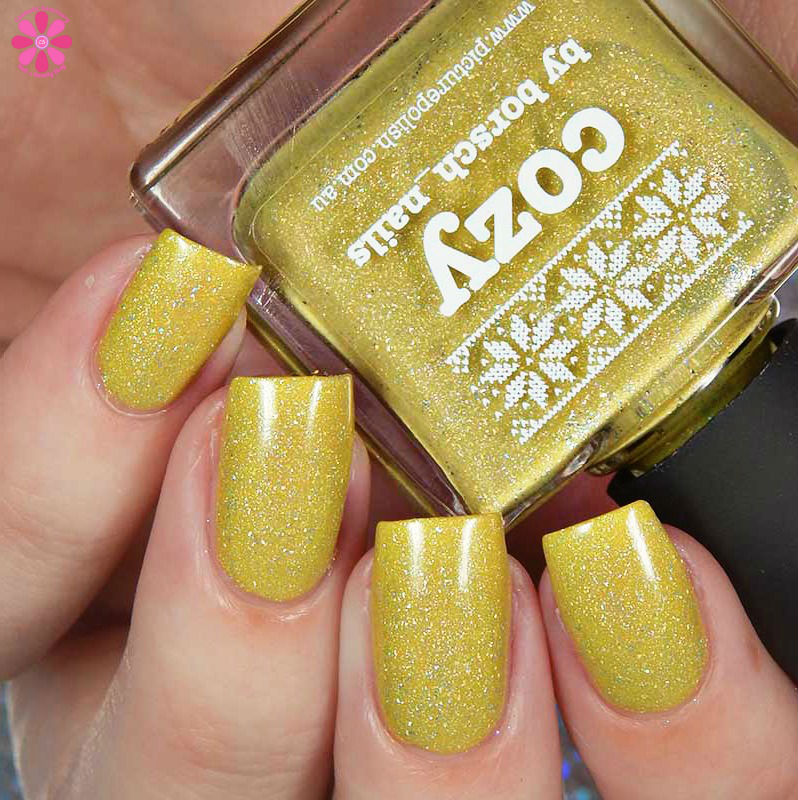 Haven
Haven was created in collaboration with Loves Lacquer. This is a super pale dusty offwhite crelly base with silver holographic fleck particles. This had the same thinner consistency as Clouds did, so I used 3 coats and a glossy top coat for these photos.
I actually really loved this shade, it's a good year round palette cleansing color.
Tasha
Tasha is another favorite and it's a collab shade with BadGirlNails. This is a medium cool toned lavender creme base with an aqua to pink shifting shimmer as well as silver holographic micro flecks. I used 2 coats and a glossy top coat for these photos.
Dandelion
Dandelion was created with laublm and is the final shade I'll be sharing! This is a medium grass green jelly based scattered holographic with additional silver holographic flecks mixed in. Since this is a jelly based, it did require 3 coats to reach full opacity.
Picture Polish Clouds, Tasha, Cozy, Haven & Dandelion Overview
It's always exciting to see what bloggers come up with when they collab with brands. Picture Polish does a nice mix of their own shades and collab shades so we see them fairly often. This is a very Spring-esque appeal for me and they all have holo flecks in them. Application wise, almost all of them needed 3 coats. Tasha was the only one that had a more opaque creme base, so it only required 2. Otherwise, application was nice – you just need to be prepared for more than 2 coats with most. If you generally do thin coats, it is possibly you'll need to do 4. I did 3 normal coats for the ones requiring 3 coats.
My Top Picks: Haven, Tasha & Clouds
Price:  $15.00 Each
Where To Buy: Color4Nails Website
Coupon Code: Use the code CSant10 at checkout for 10% off!
Color4Nails Social Media: Facebook | Instagram
So there you have it – the newest Picture Polish releases! What did you think? Any you plan on grabbing?