Julie G has a special on 6 of their polishes online now! This is the Julie G Unicorn Collection, and I have it to share with you tonight.
A lot of these should look familiar! For a limited time, these 6 shades are set as a special price on the Julie G website!
Keep in mind, the polishes within the Unicorn Collection are core colors and can be found at your local Rite Aid nestled along the rest of the beautiful Julie G polishes. These beauties were brought together simply to provide a special price for an assortment of Julie G shades that are season appropriate.
Let's go over each shade (in case there are some you haven't seen before!) and then you can head over and purchase the Unicorn Collection at a special price. This collection will only be available at this price online.
Fairytale
Fairytale is a pale, cool toned lilac creme. I used 2 coats and a glossy top coat for these photos.
Bikini
This photo isn't color accurate. It's pinker in person and MUCH brighter.
Bikini is a neon salmon pink with a pastel like quality. I never know what to call them, pastel neons? Bleached neons? It's bright but light at the same time.
I used 3 thin coats and a glossy top coat for these photos.
I have no macro because the photo simply didn't come out and looked two toned and blurry. I decided to save your eyes from that torture!
Cotton Candy
Cotton Candy is a light peach toned pink creme base with a subtle shimmer. I used 3 thin coats and a glossy top coat for these photos.
Little Fairy
Little Fairy is a glittery topper with pink and pink holographic glitters mixed in. I used 1 coat over Cotton Candy for these photos.
Santorini
Santorini is a light cornflower blue with subtle shimmer. I used 2 coats and a glossy top coat for these photos.
Gorgeous shade, but I had minor self leveling issues.
Tropical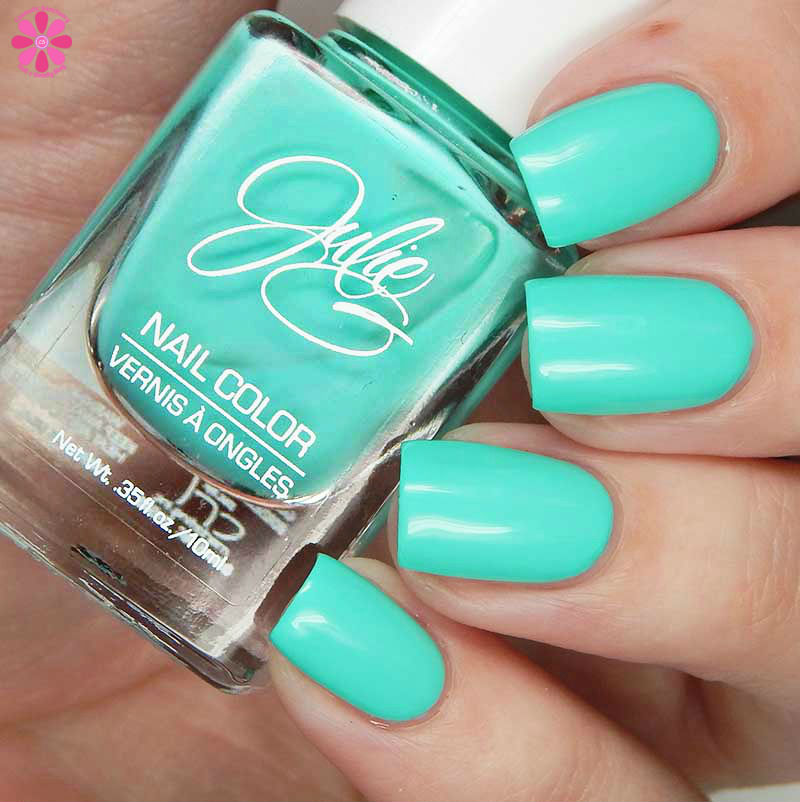 Tropical is one of my favorite Julie G shades. You recently saw it in  a Spring nail art look I did too!
Tropical is a bright, almost neon shade that is between a mint and a turquoise shade. I used 2 coats and a glossy top coat for these photos.
Julie G Unicorn Collection Overview
As I stated earlier, all of these shades are core colors in the Julie G line, but for a limited time they are being released together for a special price.
Overall, application was nice. I had some minor issues on a couple (each one is stated beneath the photo) but nothing outrageous. Bikini is the only one that is not color accurate on my monitors, and neons are like that sometimes for me. It's much pinker and brighter in person.
Price: $17.99 (normally all 6 would be close to $24.00)
Where To Buy: Online on the Jesse's Girl Website (This deal is only for online, not in store!)
Social Media: Facebook | Instagram
So what do you think? Will you be picking up the Julie G Unicorn Collection?