Press Sample for Fandom Flakies Box June 2021
WandaVision
Happy Friday! Cutting close as usual, not really sure what I'll do if I'm ever way ahead of the game, but I have the Fandom Flakies Box to share, and the June 2021 theme is WandaVision!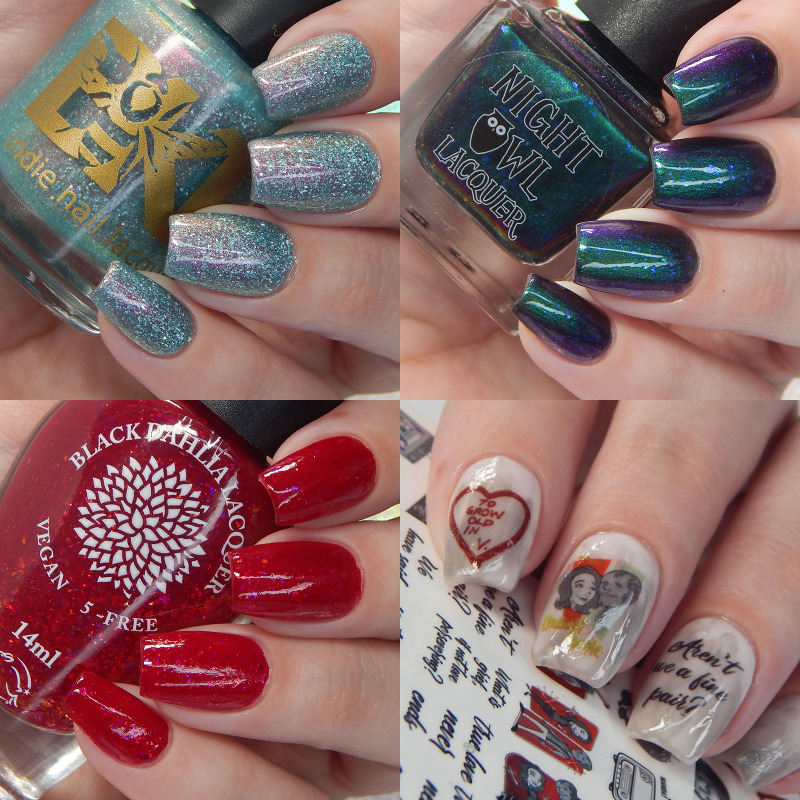 It's time for the June Fandom Flakies Box! This month Black Dahlia Lacquer joins Night Owl Lacquer and Bee's Knees Lacquer, and of course – Ribbits Stickits!

Black Dahlia Lacquer selected WandaVision, and it's a show I have heard amazing things about – plus it's on my queue. I've been waiting until things are calmer and I can focus a bit on it. Lately I've been watching things for background noise more than anything while I work.

The Fandom Flakies Box for June 2021 goes up for sale in a few short hours, so lets take a look at whats in store for us!
Bee's Knees Lacquer | Love Enduring
Love Enduring is a steely blue jelly base loaded with pink to copper to gold shimmer and silver holo flecks. I used 3 thin coats and a glossy top coat for these photos.
Night Owl Lacquer | This Is Our Home Now
This Is Our Home Now is a green to blue to purple multichrome base with blue to violet to red crystal chameleon flakes. I used 3 thin coats and a glossy top coat for these photos.
Black Dahlia Lacquer | Scarlet Witch
Scarlet Witch is a medium-deep, slightly pink leaning red crelly base with iridescent microglitters, shifting red microglitter, gold flakes, as well as an assortment of red to orange to gold to blue to purple shifting iridescent flakes. I used 3 thin coats and a glossy top coat for these photos.

This is a slightly deeper red in person. The crelly base plus photography lighting lightened it up as light passed through.
Ribbits Stickits | Add Ons
Ribbits Stickits has a few add ons for us this month! There are 5 in total – an acetone additive, hand and cuticle cream, cuticle cover (latex) and two different water slide decal sheets.

The 3 scented products are all in the scent 'Aren't We A Fine Pair' and the scent description is:

Top Notes: Black Currant, Apple, Sparkling Champagne
Middle Notes: Black Cherry, Red Wine, Grapefruit, Lemon, Pomegranate, Clove
Bottom Notes: Oak, Amber, Vanilla, Green Foliage, Geranium, Rose

The scent is musky, warm and more mature fruit. I know the description is littered with fruit notes, but they actually aren't as bright as most are. They are there and they do smell good – but it's definitely a more mature scent.
This hand and cuticle cream is thick enough so it can be used every day in small amounts, or slather it on at night for a more intensive treatment.

Add On Price: $6.50
Frogetaboutit Acetone Additive is a mixture of glycerine and oil and fragrance that you add to your acetone to help prevent drying and that white ashen skin look.

Most do add these to pure acetone, but i personally like using it in Zoya Remove +. Remove+ does already have it's own built in additive in a sense, but I like the additional boost.

Add On Price: $4.00
Unfroggettable Cuticle Cover is a latex based cuticle cover. You brush this on before nail art – or even normal painting – then peel it off for a clean line. This is scented to help cover some of the latex scent – and it's actually quite pleasant with Aren't We A Fine Pair scent.

I did a smoosh mani (shown below) and… what I had in my head didn't translate well – so now it's a smokey smoosh.

If you are allergic to latex, do not use this product.

Add On Price: $8.00
We also have 2 waterslide decal sheets – they will be $6 each.

An Unusual Couple is directly below, and 2nd image down is Aren't We A Fine Pair.
Fandom Flakies Box June 2021 | WandaVision
There we have it – the Fandom Flakies Box for June 2021! Remember, if you purchase the box you will receive the 3 polishes only. All Ribbits Stickits items are addons to personalize your box.

Price: $30.00 + Shipping | Add Ons: Cuticle Cover $8.00 | Hand & Cuticle Cream: $6.50 | Acetone Additive: $4.00 | Waterslide Decals: $6.00 Each

Where To Buy: Fandom Flakies Shop

Preorder: June 11th at Noon EDT through June 18th at 11:59 PM EDT

Fandom Flakies Box Social Media: Facebook Fan Group | Instagram

What did you think? Have you seen WandaVision?