Happy New Year everyone! We have the first official post of 2018, and we're kicking off the New Year with  Color Infinity! This is a new to me brand, and I'm so glad I got the opportunity to work with them! As you can see, I also have my shorter nails now. I got a small crack in my index nail mid December and was patching it to get through Polish Pickup and I was tired of babying it – so I finally filed them down. They'll grow back.
Okay so we have 4 lovely shades that make up the  Holo Winter Flowers Collection! I also messed with one to see if it stamps – and it does, so we'll see that in this post as well.
Let's jump right in!
Lenten Rose
I love colors like this on my shorter nails. This is also the shade that stamps really well.
Lenten Rose is a deep berry red linear holographic. This was almost a one coat shade, which is why I used it as a stamping polish also. I used 2 coats and a glossy top coat for these photos.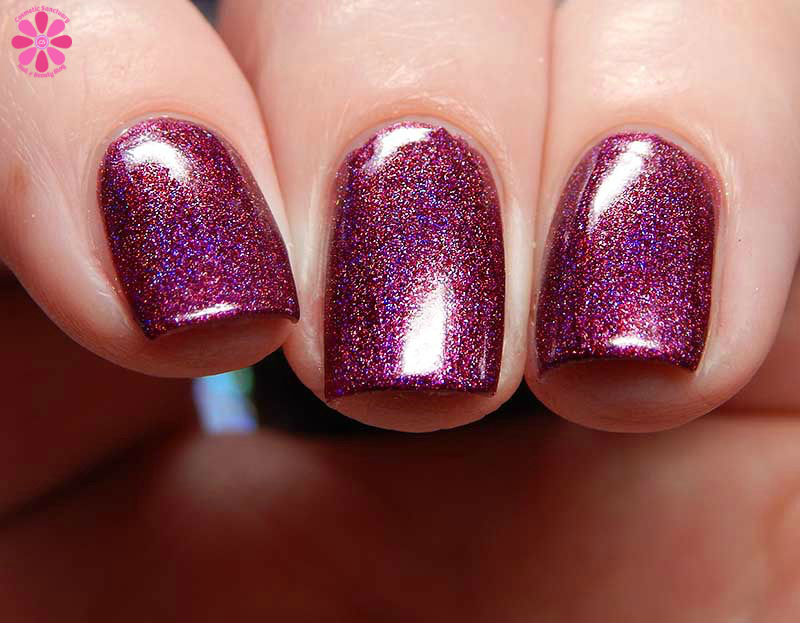 And now as a stamping polish! Here is Lenten Rose stamped over Snowdrop (which we'll be looking at next)
Snowdrop
Snowdrop is a light grey linear holographic with green to teal to purple to pink shifting flakes added in. I used 2 coats and a glossy top coat for these photos.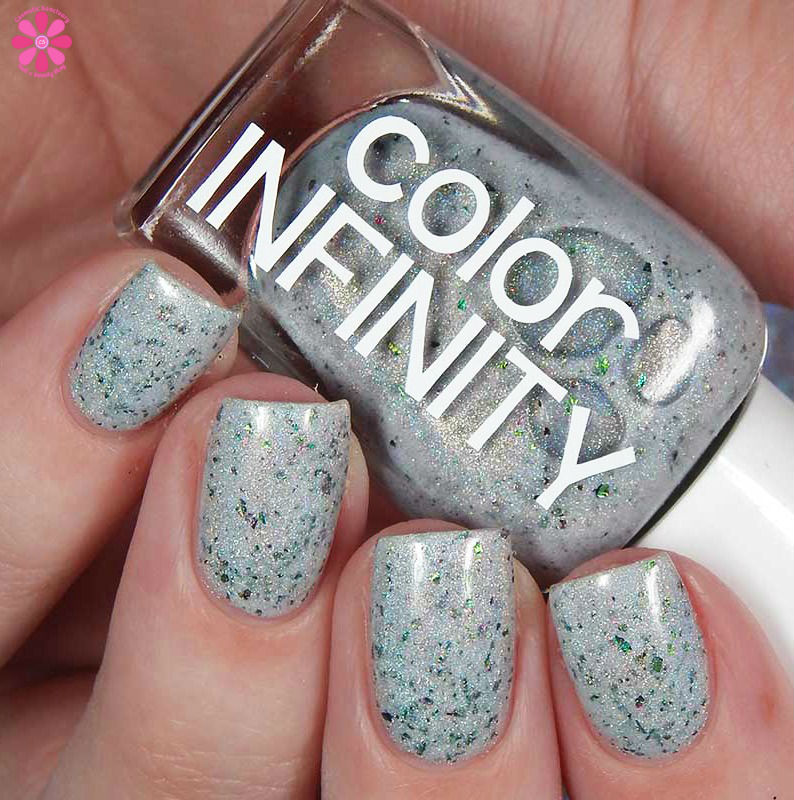 Winter Pansy
I'm going to be showing Winter Pansy in 2 ways. It naturally dries down to a matte finish, so I'll show that as well as with a glossy top coat.
Winter Pansy is a royal blue linear holographic that naturally dries matte. This does have a slightly stronger scent from the pigment. I used 2 coats and a no top coat for the first set of photos, and 2 coats with a glossy top coat for these second set of photos.
Pink Poinsettia
Pink Poinsettia is a medium pink linear holographic. I used 2 coats and a glossy top coat for these photos.
Color Infinity Holo Winter Flowers Collection Overview
This was a great collection for me as an introduction to the Color Infinity brand. I had no application issues with any of these shades and they were all fully opaque in just 2 coats. My top picks are definitely Snowdrop and Lenten  Rose.
Where To Buy: Color Infinity Shop
Price: Each polish is just $5.00. Full collection is $20.00. Bottles are 8.5 mL in size
Release Window: The ordering window for this collection is Friday, 12/29/17 through Monday, 1/8/18 at 11:59 PM Eastern Time.
Color Infinity Social Media Links: Instagram | Facebook
Hope you enjoyed the post and have a wonderful rest of your day!